Happy Celiac Awareness Month! But if you're here, you probably already know that. Some people celebrate Sept, May. Whatever. I vote that all months should be Celiac Awareness month until we get most, if not all, Celiacs diagnosed! There's the often quoted statistic that 97% of Celiacs are undiagnosed, and I've repeated that myself. It was Mary, director of the Celiac Sprue Association, who pointed out that that figure has been around for years, while diagnosis and awareness has increased dramatically. Whatever the number, we've got a long way to go!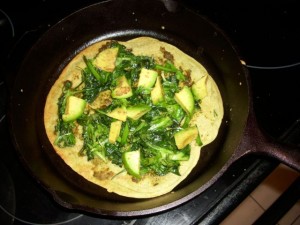 Last week was a hectic one, between showing the house, visiting houses, working…and fun squeezed in here and there. I did make Alta's kick tush pizza crust not just once, but twice! One word: wow. And my Daring Baker challenge was less than glorious, but tasty.
This week, I'm making a conscious effort to scale back wherever possible. I've got a lot of clients, AND my in-laws will be in town, AND for some reason (without thinking) I taught on Saturday, saw clients on Sunday and am seriously in need of a weekend…alas. And not a weekend with guests and house-showing! It's that delicate dance of obligation and self care, and I'm sure many of you can relate.
Our dear hostess for this week, Angela of Angela's Kitchen, has chosen the epitome of spring: Asparagus! Fortunately, Ricki hosted an asparagus SOS challenge, so I'll need to refer there for inspiration.
Monday:
Nightshade stew with fennel
Tues:
White beans w/greens and sauteed garlic

Weds:
Leftovers
Thurs:
Mahi Mahi with kale pesto and asparagus
Friday:
something with DH's family
Sweet stuff:
Cinnamon glazed walnuts (will post!)