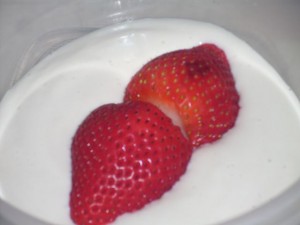 Hmmm…I think the title sums it up!  I missed last month's Daring Bakers, and I didn't want to miss out on more.  And yet, I'm trying to keep baking to a minimum because we're showing our house.  Quite a balance!
The April 2011 Daring Bakers' challenge was hosted by Evelyne of the blog Cheap Ethnic Eatz. Evelyne chose to challenge everyone to make a maple mousse in an edible container. Prizes are being awarded to the most creative edible container and filling, so vote on your favorite from April 27th to May 27th at http://thedaringkitchen.com!
This wasn't a stellar challenge for me.  Essentially, I tried making a vegan, soy-free mousse, and got yummy goop.  But it wasn't firm enough to put into an edible container, so I didn't end up doing that element.  I know, I know.  Next month!
What I did make:
1 cup macadamia nuts, raw
1 cup water
1 TBSP maple syrup (I ran out…)
1/4 cup agave
1 tsp agar agar powder
1/2 tsp vanilla powder
Blend really well in a vitamix, chill & serve!
The un-mousse sauce is yummy on fruit, vegan, sugar-free and delicious. If I had to do it again, I'd use more macadamias and more agar for a firmer consistency.
Please check out what the other DB'ers did for this month's challenge and vote on your favorite!