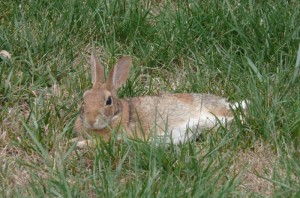 I spent Saturday at a daylong meditation retreat, and it appears that this bunny did as well.  He spent much of Sunday lounging in our backyard and looking quite peaceful and unconcerned as I spent time in my garden. And I will have to clean the kitty drool off of the windows for sure!
The theme for this week's menu plan is Wendy's 50th birthday, which is quite a milestone.  Wendy is also our kind host over at Celiacs in the House.  I've had the privilege of helping Wendy re-shape her diet and health for her birthday, and sharing my perspective on Wendy's process. I know she'll keep many of the healthy habits she's absorbing as she moves forward!
In honor of Wendy's birthday, I'll be making her kale berry smoothie.  I must confess, I have a Vitamix.  And I love my Vitamix.  But I rarely make myself smoothies, and so I'll give this a roll this week.
Also, I have a newsletter up on gluten in medications on my website. Enjoy!
And, Amy of Simply Gluten and Sugar free has an amazing Sears Chef giveaway on her site…
Monday:
Lentil stew with kale and garden fresh veggies
Tues:
Lemony Quinoa Mint Salad with tomatoes
Weds:
Kale smoothie in the AM
Turkey cutlets breaded in millet and broccoli
Thursday:
Roasted rosemary salmon and peppers
Friday:
Leftovers
Baked goods:
I am trying to make meringue peeps based on Heather's inspirational recipe, but they keep falling when I add in the veggie dye food coloring. They don't look anywhere as cute as Heather's!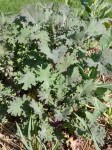 From my garden:
kale
tomatoes
peppers
garlic (picked a month or so ago)
carrots (yes, I know, hence the happy rabbit)
gobs of herbs: basil, oregano, thyme, rosemary, lemongrass, parsley