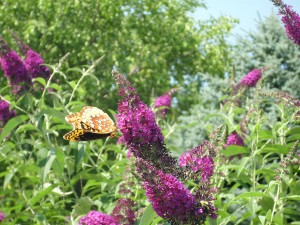 And despite the fact that it feels like August here, it's just June.  The temperatures around here are regularly hitting 100, and my plants are largely left to their own devices.  It's WAY too hot for me.  And I haven't been as good about watering as I want to be.
So Wendy of Celiacs in the House is back in the saddle of menu planning, and her choice for this week is cabbage.  I LOVE cabbage.  Cabbage loves me lots less.  But my favorite is this recipe for caramelized cabbage
I have been baking up a storm in the kitchen, I guess 'cause I've been stir crazy.  Chocolate pavlovas.  Pecan pie.  Pumpkin seed butter.  Almond cookies.  I need to swear off the kitchen for a bit, I think!
It's a busy week for me, and so I'm trying to keep it simple. I think I broke my toe, and now I'm not quite sure how to make my schedule work and hobble around. fingers crossed for it feeling better soon! I am also going to be participating in an FDA hearing on medications for Celiac Disease, which should be exciting…and hopefully it's easy to get around.

Monday:
Mahi mahi with arugula pesto
Tues:
Quinoa with mint and garden fresh tomatoes
Weds:
Nightshade stew with my baby green peppers
Thursday:
Leftovers, maybe?
Friday:
Roasted garlic salmon with asparagus

In the garden:
tomatoes
kale
peppers (red and serrano)
garlic!
herbs of all sorts
artichokes
I didn't make it to the Farmers' market because of my toe…next week, hopefully!