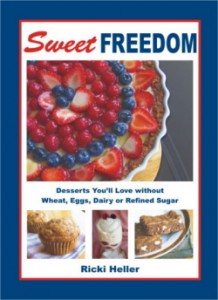 The first thing I (re) learned this Monday is that when I work late, the whole week gets off to a hectic start (especially when I have to be up early for a Tues morning meeting!) Which makes menu planning and life planning even more important.
Wendy is our lovely hostess this week with the theme of favorite cookbooks. Now, I rarely use cookbooks because that's not how my brain works, but I love reading them for inspiration. And one of my favorites is Sweet Freedom, by Ricki of Diet, dessert and dogs. It's vegan, sugar free, and above all, delish! Not ALL recipes are GF, but most are.
So onto a super quick brief meal plan:

Monday:
roasted rosemary salmon with roasted peppers
Tues:
Southwestern quinoa black bean salad
Weds:
coconut curried beef with roasted cauliflower

Thursday:
yummy red lentil dal
Friday:
leftovers!
Baked good:
hmm…I will be making something for my Saturday class, Living and Loving a GF diet, but darned if I know what!