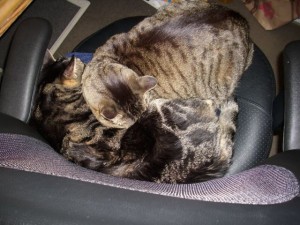 It's gotten cold here rather suddenly, and given the fact that it's been so lovely until now, I can't really complain. But the dudes always have the right idea. Whenever the going gets tough, snuggle up.
I had a fun week of baking last week, including carob balls and dairy free pralines per my sister's request (I will post soon!). And looking towards this week, I'm eagerly anticipating soup and finally, a time to unwind a bit.
Our hostess for the menu swap is Esther from Lilac Kitchen, and she's chosen suet. Now, this may be a common ingredient across the pond but it's new to me, so I look forward to seeing how it's used!

Monday:
Chicken and broccoli in fresh mint sauce
Tuesday:
Turkey soup!
Weds:
Pesto-ed mahi with steamed kale and kalamatas
Thursday:
Lentil dal with roasted cauliflower

Friday:
leftovers!
Baked goods:
cheesecake, I think
pumpkin bread (maybe)
From my garden:
aside from herbs, that's all for the season. Most of the raspberries froze on the vine, regretfully.