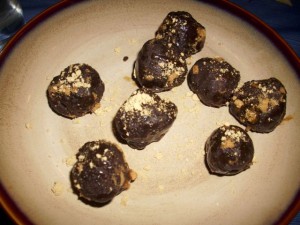 I love these babies. I've made them for a while, and finally wrote down the recipe…only to lose it in the shuffle of a kitchen remodel. But no worries! The new, improved version is even yummier (I think). So check out these gluten/dairy/egg/soy/corn/sugar/caffeine free vegan babies and know that no matter what you can eat, there's always a way to make life very tasty.
Chestnuts are awesome. They give a wonderful moist creamy feel to the treats, and using the pre-peeled ones makes it super easy. I just will have to remember to stock up to have them all year long!
The balls do taste chocolat-y, especially if you add the chocolate liquor. Or if you aren't avoiding chocolate, rolling them in cocoa powder or adding an ounce of melted cocoa mass instead of the cashew butter makes someone's brain think chocolate. But carob has a lovely flavor of its own that I appreciate it best for what it is, rather than trying to make it into something it isn't (i.e. pretending it's chocolate)
8 oz drained whole peeled chestnuts (I use the TJ's box)
6 brazil nuts, preferably toasted
1 Tbsp cashew butter (or other nut butter)
1/3 cup agave nectar
1/3 cup coconut oil
1/2 cup carob powder
1/4 tsp stevia concentrate
1/2 tsp cinnamon powder
1 tsp vanilla
splash chocolate liquor, such as godiva (optional)
Blend chestnuts, brazil nuts and cashew butter until they are mostly ground down, then add the agave and coconut oil until you get a nice smooth paste. Add in the rest of the ingredients, pulse until well blended. Scoop into a bowl, chill for 30-60 min. Roll in powdered sugar, powdered coconut sugar, cocoa powder or a mix.
Mmmm. They keep well, but I've rarely tested that out.