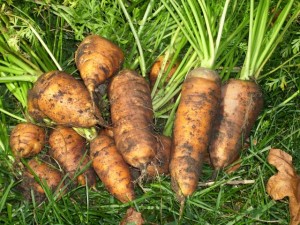 This week's theme is carrots! These babies came straight from my garden this week. I'm so jazzed, I've never gotten carrots this big.
Sorry for the late theme announcement, I need new volunteers!
I don't really have a menu plan for this week because we're having the kitchen remodeled and my kitchen is currently in boxes (which presents quite a challenge!) So I am expecting that there will be an abundance of Amy's soup and fruit and nuts in my diet. Planning ahead is a great thing, but only if you do it!
Instead of my menu plan, I offer my GF Thanksgiving newsletter. There's a link to a GF turkey list, T-day tips and recipes, a class I'm holding next weekend and more.
And everyone else?
Kim of Gluten Free is Life has had several big losses in the past month and so she is working on regrouping. So please send hugs her way. She enjoys carrots roasted, and has great sounding recipes, like sweet potato hash browns!
Scrumptious of In my box has a beautiful, GF vegan menu planned with a fantastic sounding Moroccan Butternut Squash and Carrot Stew with Quinoa Pilaf that looks like a great melding of seasonal flavors. And I"m loving her pictures, too!