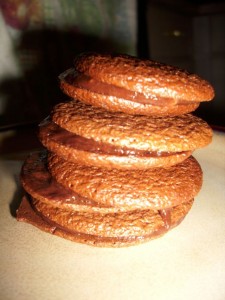 I must confess I forgot today was DB day. I think it might have something to do with the fact that my chocolate macarons didn't work quite as planned!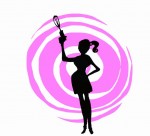 The 2009 October Daring Baker's challenge was brought to us by Ami S. She chose macarons from Claudia Fleming's The Last Course: The Desserts of Gramercy Tavern as the challenge recipe. You can visit Ami at her blog, Baking Without Fear.
Obviously I was excited. I mean, they were already GF! I thought I could quite simply swap out the confectioner's sugar for finely ground coconut sugar. Silly me. It was much less sweet, and much more sticky, leading to very flat cookies that were nonetheless yummy. I filled them with a nutella inspired cocoa/agave/hazelnut butter mix that was quite delish (no, I didn't measure, and I ate too much along the way to give any kind of accurate representation of quantity.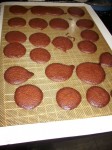 I sorta kinda wanted to redo them–I was totally impressed by David Lebovitz' lyrical descriptions–but alas, reality hits and collides with my baking fantasies and it was so darned crazy 'round these parts that there was just no way.
So please do check out the amazing creations of other DB'ers on the web.for luscious inspiration.