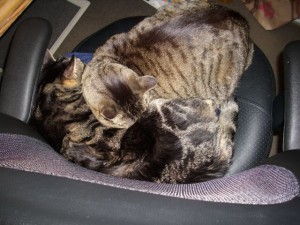 I must admit, I do love Fall, but I'm so not a fan of the rain and gloomy weather we've been having.  I say the guys have the right idea!
Wendy of Celiacs in the House is our lovely hostess and she has picked squash as a theme.  I'm allergic to squash.  All kinds.  Watermelon, cucumbers, butternut (although I do sometimes have it), pumpkin-you get the idea.  So squash will be eaten, but not by me!
This Saturday will be our 8th year hosting a pumpkin carving party, which is good fun, gobs of work, and copious quantities of yummy (gluten free!) food.  So far, I've made and frozen rugelach dough and chocolate chip cookies, and chocolate almond balls, which are super addictive, and pumpkin seed brittle. What a way to break almost a month of non baking with a huge baking binge, but hey.  And still to come is pumpkin bread, sweet potato cornbread, pigs in a blanket (yes, gf pigs in a blanket using this croissant dough), an apple crisp and a chocolate cherry pie.  Did I mention that I have a problem with making too much food?  Oh yeah, there will be food, too, and I'll be making chili and hot apple 'cider'.  If you have a good recipe for white chili, drop me a line por favor.
Also, I have a newsletter up on Autumn/Halloween related stuff. Enjoy!
Due to the ungodly amount of baking that has/will happen in the near future, meals will be SIMPLE.
Monday:
Chicken in tomato sauce with asparagus
Tuesday:
Lentil stew from the freezer with papadams
Weds:
Curried bison in a coconut sauce and the biggest cauliflower I've ever seen
Thursday:
Rosemary roasted salmon and broccoli
Friday:
whatever I can dig up that's easy–which may mean fruit and nuts, which I adore.
From my garden: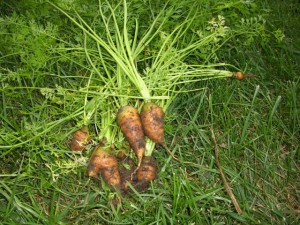 peppers
carrots
tomatoes
Serranos

From the market:
kale
broccoli
apples
pears
garlic