I'm delighted by Kim's choice of cherries as this week's theme for Menu plan Monday.  We've been getting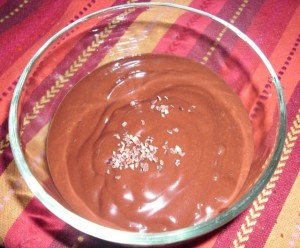 beautiful ones, and some Ranier cherries too, which are beyond delicious.  Although I think cherries are perfect as is, I did make an easy and yummy raw, sugar free, vegan cherry pudding and the recipe is below.
I also posted the Daring Baker challenge of Orange Milan Cookies…they worked beautifully, and I can't wait to do them in mint.
My DH is out of town traveling, which makes cooking much easier and has me lean toward more vegan options and a lot more play.  As much as I love to cook, it's nice not to have responsibilities from time to time, too.
Also,  if you're interested, check out an article on Celiac and autoimmunity.
Monday:
Sea's Chickpea and spinach curry
Tuesday
quinoa with pesto
Weds:
Salmon and roasted peppers

Thursday:
Indian Spiced Cauliflower with papads
Friday:
Hubby's home!
Chicken in a mint sauce with artichokes
Saturday:
Southwestern quinoa and some sort of dessert
Baked goods:
Chickpea crackers
Some dessert for a potluck–maybe a raspberry mousse? I will likely change my mind a bunch of times
banana cupcakes with chocolate frosting
Chocolate cherry "pudding"

Chocolate cherry pudding:
2 cups pitted cherries
1/4 cup agave
1/3 cup cocoa powder
1 Tablespoon chia seeds (Salba)
"meat" of one young coconut
Put everything in a vitamix or good blender. Blend until smooth. Chill, top with cocoa nibs if desired and enjoy!