Let's just start by saying that I grew up a few blocks away from a Pepperidge Farm outlet store. You know, the places where cookies go when they're put out to pasture…maybe a few days before the expiration date, maybe cookies that didn't make the cut, you get the general idea. As I grew up in a–let's say–thrifty family (and I definitely have the thrifty gene myself!!!) I came to intimately know and love their cookies. I don't think I could say what my favorite was–the Geneva? Brussels? Bordeaux? Seriously, why choose.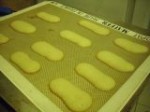 But needless to day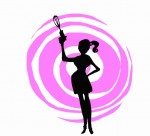 I was overly jazzed when I discovered that Orange Milan Cookies were this month's DB challenge.
The July Daring Bakers' challenge was hosted by Nicole at Sweet Tooth. She chose Chocolate Covered Marshmallow Cookies and Milan Cookies from pastry chef Gale Gand of the Food Network.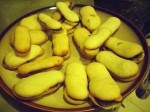 Since I couldn't eat them anyway, I opted to just make them GF. I used Better Batter flour and subbed 1:1. It worked perfectly. The milan cookies were very delicate at first so I added a tablespoon more flour, which in retrospect was silly. Despite my better judgment, I did also use 1.5 Tablespoons of lemon extract, and honestly, I still think that was too much. I'd have to eliminate it all together to make the holy grail of cookies, Mint Milan cookies.
These were a lot of fun and I'd definitely make them again. To see all the other versions of Milan cookies (and the faux mallomars, too) please see the other Daring Bakers pages!