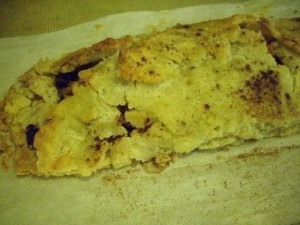 I love the fact that every month, I have to stretch a little bit outside my comfort zone, get a little daring and bake up a storm!
The May Daring Bakers' challenge was hosted by Linda of make life sweeter! and Courtney of Coco Cooks. They chose Apple Strudel from the recipe book Kaffeehaus: Exquisite Desserts from the Classic Cafés of Vienna, Budapest and Prague by Rick Rodgers.
Well, given my gluten free-ness, that particular strudel was off the table for experimentation.  So as I hunted around, I found that Carol Fenster's 1000 GF recipes had a recipe for GF strudel.  And just a plug, if you're GF, buy it.  It's the Joy of Cooking of glutenfreeland.  You can get a recipe for pretty much anything, whic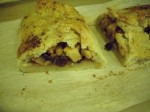 h is a fabulous jumping off point for subsequent recipe tweaking.
As I was reading the directions, she says how a strudel is pretty much apple filling in pie crust.  I've had GF pie crust kicking around in the fridge forever, and so I opted to make the filling and sandwich it in the pie crust.
Yum!  My guinea pigs were quite jazzed.  I rolled the bottom a little thickly, but otherwise, it worked well.  If I'd taken more time, it would have been prettier, but there are some days I go for pretty and tasty.  Some days, pretty tasty will have to do.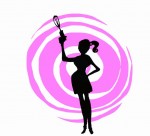 I did (and do) intend to make a Cheryl friendly apple concoction sometime in the near future because the smell of this was quite heavenly!  We shall see how that goes, and I'll post on it if it turns out well.
Please do check out the beautiful offerings around the Daring Baker empire...and stay tuned for next month's fun!