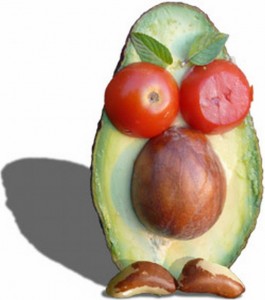 Just as I'm about to sit out another menu plan, someone picks one of my favorite foods and so I *have* to play.  I love avocados: their decadent rich moist flavor, their portability, their yumminess!  They're amazing on salads, perfect with soup, great as guac, and fabulous as desserts.
This is how an avocado (ok, an avocado face) ended up as a logo for my nutrition practice…
Here are a few of my recipes with avocado:
Southwestern Quinoa and Bean Salad
My birthday celebration didn't quite go as planned. A tick decided I was tasty, and it's really sapped my energy. Hopefully I found it in time and I'll be as good as new soon (fingers crossed)
Don't forget! Sea's yum-e-baby shower is soon, so please send along your recipes and good wishes for Sea and her little darling.
Oh yeah–if you're interested in hosting, please drop me a line.
Monday:
out in WV with my sweetie, who knows what we'll be eating.
Tues: Chickpea crackers with avocado slices and cherry tomatoes a ginormous pineapple
Wed: Something from my freezer, TBD
Thursday: Coconut beef curry with cauliflower
Friday: Salmon and grilled peppers