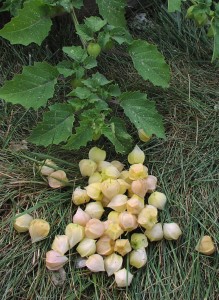 Just a tidbit of news, since it's making my day: Karina, the GF Goddess is posting low glycemic (low carb) recipes. As a nutritionist who is very into low glycemic foods, and someone who loves to eat, I'm delighted.  Wait, you're not gluten free?  No worries, good food has no boundaries!  So check out her luscious blog, you'll be glad you did.
Now on to other tasty topics: ground cherries.  I was reading a seed catalog, which isn't as boring as it sounds. Hey, I was on a plane and didn't have much else to do! The description was intriguing: they "have a flavor reminiscent of pineapple".  How could I resist?  I'd never heard of them before, but hey, that's never stopped me in the past!
Lo and behold, they're totally delicious, and probably the happiest member of my garden.  They're a relative of tomato, but are much sweeter, like a typical fruit.  Like tomatillos, they have a papery peel, which you remove to get the fruit.   Unlike tomatoes,  they grow close to the ground, and they are super low maintenece (i.e. all I do is pick 'em and they're happy)
As far as preparation, usually I don't really do much with them aside from peeling and popping them into my mouth.  I've used them in salsa, and in salads as a colorful addition.  I found recipes to make a jam with them, but adding sugar to them seems totally unnecessary.  Besides, I end up eating them so quickly I'd have a hard time getting enough!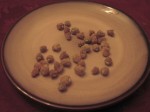 I wanted to make sure I was following the WHB rules and give a recipe, so I tried dehydrating a few with a tray of apricots I was drying.  They're interesting and not as sweet as I expected.  They're a bit like raisins, but don't have as full of a flavor.  However, if by some quirk of fate, you're allergic to grapes (like me), they might make a decent substitute.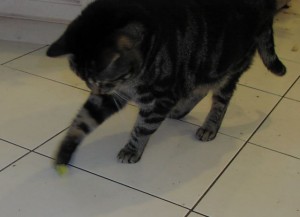 As a totally unexpected bonus, they also make an excellent cat toy.  I co-habitate with a large, lazy feline, and he went nuts for one that I dropped on the floor.  Apparently, it makes a great puck.  But the next morning I discovered they'd somehow maneuvered a bunch out of the bowl they were in so the guys would have more toys.  Gotta love it.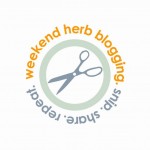 This is my entry into Weekend Herb Blogging, as originated by Kalyn's Kitchen.  This week's happy hostess is Marija from Palachinka, a fellow Daring Baker who has some seriously drool-worthy pictures on her site.