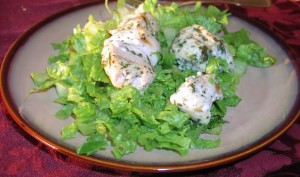 Mint was the food of the week for Menu Plan Monday, and so I figured it was a good excuse to make this.  This dish is in our standard rotation, sometimes done with chicken pieces and sometimes with chicken breast, and it's always delicious and easy.  I use chocolate mint from my garden, which doesn't even taste remotely like chocolate.  False advertising!  The stevia leaves give a subtle sweetness, but don't worry, they're not super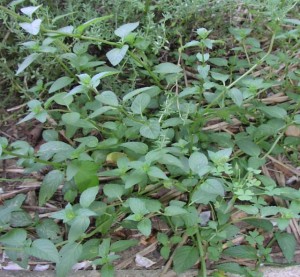 sweet like powdered stevia.
Mint tends to be a potent tummy soother, and is a good source of fiber. It's even got a neat story from Greek mythology about its origins. And, of course, if you grow it, you know that it's very plentiful and a perennial, so I'm always looking for ways to keep up with my plant.
I enjoy this dish because it's low carb, quick, easy, and using mint is a nice way to add a little variety. The chicken is yummy on a bed of lettuce with cucumbers and tomatoes, and I also like it with apple. We grilled a few ears of corn to go with it as well. And, of course, what I like most is that DH grills it and I can be lazy. For winter months, we just bake it in the oven.
1.5 cups of mint leaves, loosely packed
6 large stevia leaves
several good squeezes of lemon, or a pinch of unbuffered vitamin C powder
1 tablespoon fresh marjoram leaves
1/4 cup oil
2-3 tablespoons water
Either put everything in the blender or chop the mint leaves and combine. Marinate chicken for 2-3 hours (I tend to do all day for chicken pieces). Drain marinade, grill and enjoy!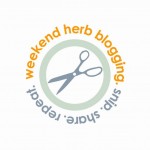 This is my weekly "Weekend Herb Blogging" submission, founded by Kalyn's Kitchen. Our host this week is Divya of Dil Se, a yummy blog chock full of East Indian dishes. I've bookmarked it and plan to try some!