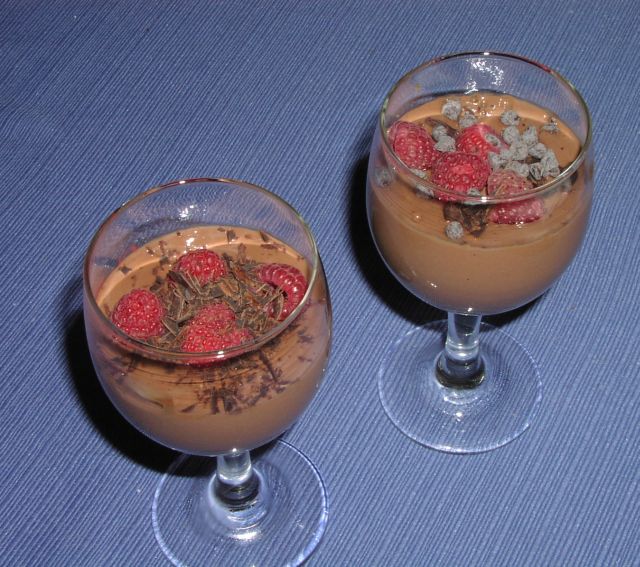 Adopt a GF blogger is the brainchild of Seamaiden of Book of Yum. I love it because I'm someone who is often inspired by the recipes I see on other websites, but I tend to morph them into my usual style and flavorings. This gives me the opportunity to sample someone else's tastes and styles, which is great. And I'm happy to be the hostess of the July edition of Adopt a GF Blogger! More info is here.
I've always been a fan of things seasonal and tasty, and so I was happy to discover the Gluten Free Hippie's recipe collection. It's a combination of vegan and mostly raw dishes, although there's a gorgeous looking cardamom grilled mango that will hopefully be in my near future! I like her approach of real, whole foods, beautiful colors, and vibrant pictures.
For "Adopt A GF Blogger", I decided to go for the Chocolate Rose Parfait. I do love rosewater, but have never paired it with chocolate before, and now I wonder why! I wanted to garnish it with rose petals, but alas, my bushes have been petal-less since a big storm a few weeks back and are just starting to bud again. However, the raspberries really paired beautifully with the rosewater and brought a real richness of taste, and are a great way of starting off with the ingredient of the week for menu plan Monday.
The pudding was simple yet very creamy, satisfying and indulgent. It does seem that rosewater is a matter of personal taste, though. DH doesn't like rosewater, which doesn't make sense to me. I like it so much that I keep giving him things with rosewater and am surprised when he's not a fan. However, his comments about the rosewater didn't keep him from devouring his parfait, so they should be taken with a big fat grain or two of salt.