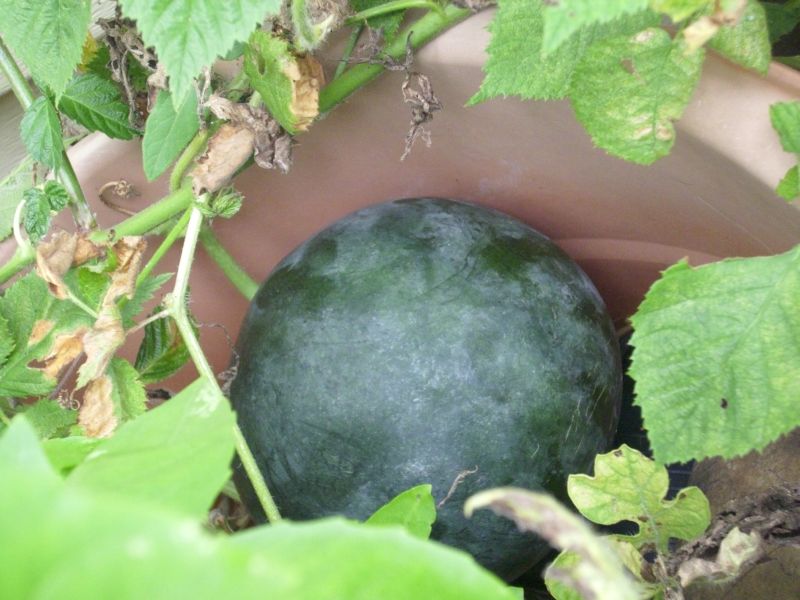 Calling all hosts/hostesses!  I know, it's August, and people are off at blogging conventions and on travel so it's a challenging time of year.  But if you're around and would like to host, drop me a line!
I started off with peaches as a theme, and then I harvested watermelon.  And then…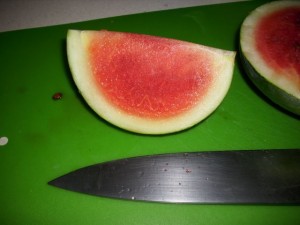 oh my.  Isn't it just too cute?  Maybe it's just me.  Anyhow.
So it was a busy week!  I posted on Back-to- School G-free style, and my Daring Baker semi success on Petit Fours, too.  And Ricki adopted me, and made my Thai Style Summer Rolls.  Check out the round-up, hosted by Shirley of Gluten-free Easily (GFE)
Onward and upwards!
Monday:
Salsamole and herby almond crackers
Tuesday:
Coconut curry with roasted cauliflower
Wed:
Grilled salmon with garlic-y broccoli
Thursday:
Chicken Curry, maybe with kale?
Friday:
Leftovers…yahoo.
Fun stuff:
Blueberry jam
Shirley's Blueberry Pie, most likely as a blueberry peach version
And everyone else?
Watermelon doesn't grow well in England, apparently. But Esther of Lilac Kitchen has a recipe for peach black bean salsa , which really sounds fantastic.
Michelle, formerly of Cooking and Uncooking has a new blog, Gluten Free: A Reason 2 Smile. She's been making her way through Carol Fenster's new cookbook and so she's sure to have a tasty week.
Heather, of Celiac Family has a fun week planned. She's making egg rolls, maybe even GF fortune cookies (sounds amazing!). And her family loves watermelon straight or in kabobs. Can't go wrong either way!
Kim, of Gluten-free is Life has a menu post up, too.  She's busy with back to school, of course, and she has a great round up of new foods out 'round the web.