I like beautiful desserts that look elegant but are easy. I'm not going to say I'm lazy, exactly, as much as I value my time and energy, and, well, both tend to be in short supply.
But I like pretty desserts, so here we go.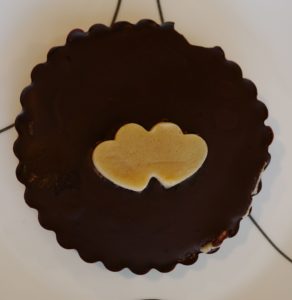 Mini tart pan—I imagine you could use something else, too!
If desired, line tart pan with wax paper for ease of cleanup.
Melt chocolate in a microwave safe bowl for 90 seconds, or until melted. Pour half into tart pan.
Scoop almond paste into a ball, and then roll out into a disk between two sheets of wax paper. Fit on top of chocolate layer.
Pour chocolate on top.
Decorate as desired.
Allow to harden, then gently press on bottom to release.
If low FODMAP, SPLIT with a friend! Monash allows .85oz almond meal, which is 24 grams—but the almond paste also includes sugar and water within that weight, so this is a best guess.