Have you seen Carol of Simply…Gluten-Free's new cookbook, Simply Gluten Free 5 Ingredient Cookbook: Fast, Fresh & Simple! 15-Minute Recipes ? I've been having fun with it. I've only had it 3 days, and I've made 3 recipes, and I've got a bunch of dog-eared pages. The No Bake Pistachio Chocolate Truffle Cake is definitely happening next weekend.
First of all, like all of Carol's books, pictures are amazing, and there are pictures for every single recipe. Part of what I like is that all the recipes are pretty simple dishes that happen to be gluten-free and most are the kinds of things I like to make.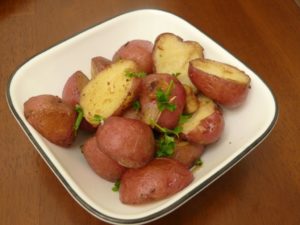 Many are dairy/soy/egg/grain/sugar free, and there aren't a ton of gluten-free flours used, which I see as a big plus.
I made the garlicky grilled potatoes with cute little red potatoes I got at the Farmer's market, and garlic and onions from my garden. It was simple and delicious, and I adore grilling, because it means my husband does all the work 😉 They were perfect and creamy, and had some awesome browned bits. My potatoes will be up in a month or so, and this would be a great way to use the little ones.
I used the same skillet for the Shrimp Scampi, so we were starting out with even richer pan juices. I haven't made shrimp scampi in years and had forgotten how simple and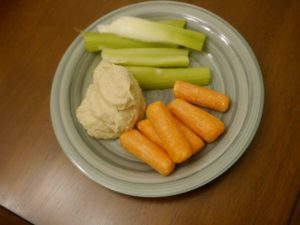 delicious it is to make. I used olive oil instead of butter, which worked perfectly.
I also made the White Bean Dip, and it took all of 3 minutes to put together. It's a nice change from hummus, and I'd probably add in rosemary or thyme the next time around. Or roasted garlic? The possibilities are endless, and this was a simple and delicious template for any bean dip.
I've worked on the Simply Gluten-Free Magazine, Carol's mag for years, so I know Carol's work, and I was excited even before I got the cookbook! I did receive a copy of this book at my request, but I was not paid for this review.