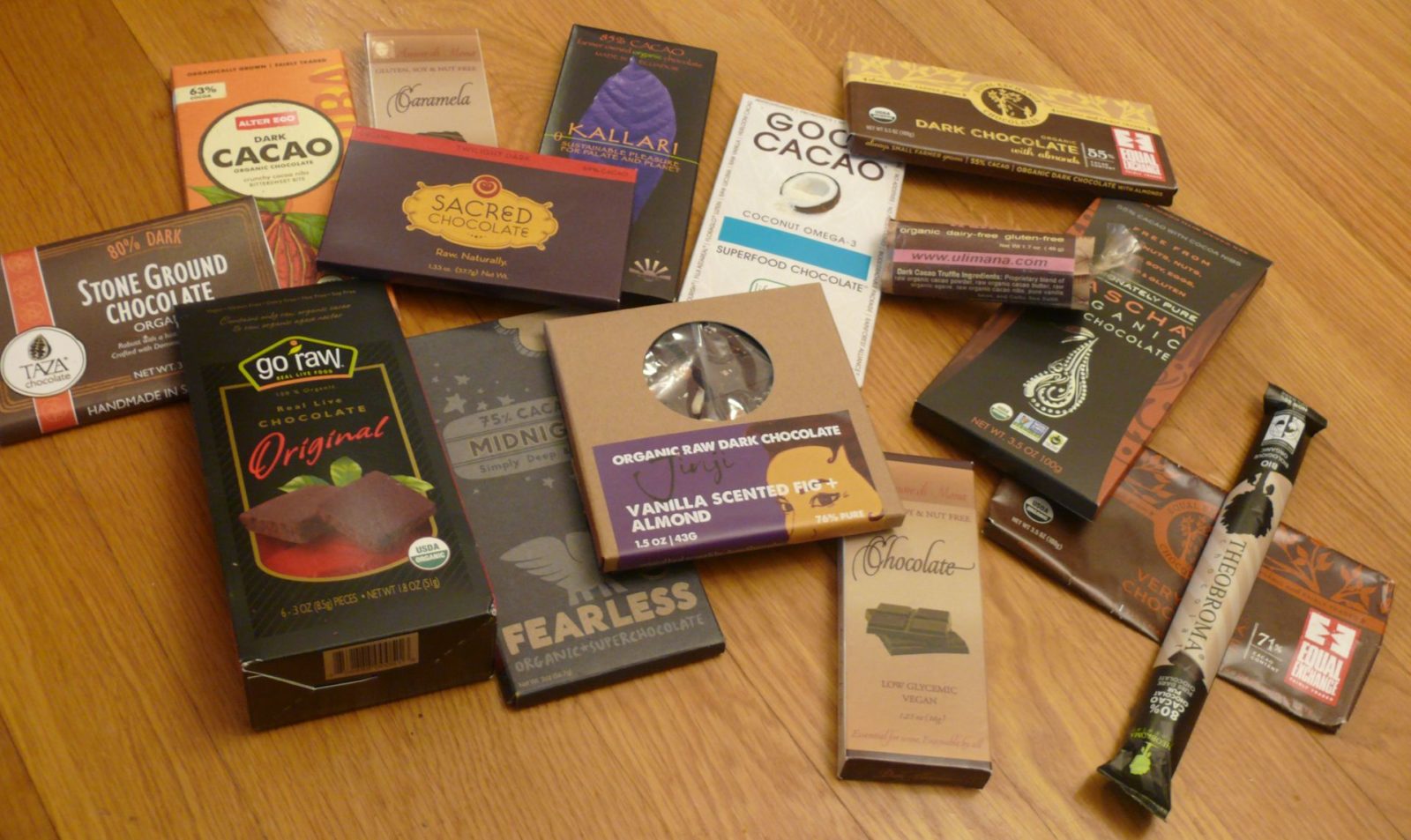 Let's play a word association game. When I say chocolate, if your first thought is ME! ME! ME! ME! this post is for you. I did a roundup of gluten, dairy and soy free chocolates last year and had so much fun, that I've updated and expanded the this with 12 more kinds of chocolate. Part 1 is here.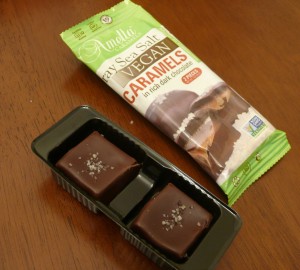 Amella: Vegan Gray Salt Caramels in 66% Dark Chocolate
Cheryl:9.5
Ingredients: Coconut milk, tapioca syrup, agave nectar, dark chocolate (unsweetened chocolate cane sugar, cocoa butter, palm fruit oil, cocoa butter, gray sea salt, lemon juice, sunflower lecithin. (all organic)
Certified Vegan, Non GMO Project Verified, Gluten Free Certified, Kosher Certified
This may truly be love. I got a two pack, thinking I'd share with my sweetie, and after tasting the first one, I realized, nope, too good to share. The outside was rich and just thick enough, the inside was sweet, creamy, moist and just about perfect for a caramel. I do wish they'd used a finer sea salt for the topping, but hey, that's a small problem
The bigger problem: they do sell dairy-based caramel in boxes that look very similar to the vegan ones, so do be extremely careful. ALSO—although it is GIG certified GF, it does have a shared equipment warning for peanuts, tree nuts, milk, eggs, wheat and soy.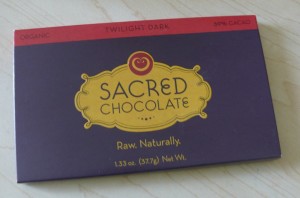 Sacred Chocolate, Twilight dark 69%
Cheryl: 9 Erik 8
Ingredients: Cacao nibs, maple sugar, cacao butter, vanilla bean (all organic).
Certified organic and vegan, made in a facility that processes nuts. Per website/packaging, all products are gluten/dairy/soy free and GIG certified GF.
It's not quite sacred, but I'd say it's very, very good. It's rich and creamy with a great mouth feel and it's got a distinctive deep chocolate-ness. Even when I had a small piece, I was satiated and enjoyed it thoroughly. I've gone back for several other nibbles and been equally pleased. Actually, the more time goes on, the more I like it. The only reason it's not higher is that it has a "flatter" taste than I typically prefer—I have no idea how else to put this into words, but I know it when I taste it, and it's a personal taste thing, I think.
Equal exchange Dark Chocolate with almonds 55%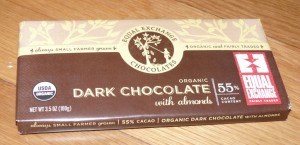 Cheryl 8, Erik 8
Chocolate liquor, sugar, cocoa butter, chopped almonds, cane sugar, vanilla beans
Vegan, soy- and gluten-free. all organic, by weight 90% Fair trade content. Kosher.
May contain traces of milk, peanuts, hazelnuts, cashews, pistachios and pecans
Sweet, creamy, nice mouth-feel. Pleasant, enjoyable and all that good stuff. The taste and texture was much like Alter Eco's since both had small pieces of almonds, but minus the bright aftertaste, so this was our preference.
Good Cacao Coconut Chocolate Cheryl 7 Mr. Dude 8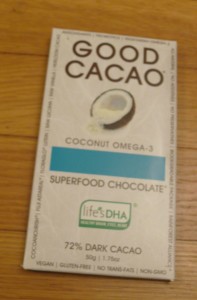 The packaging was a real turn off, so I was surprised when I really like this. When I see a chocolate advertised as a superfood with DHA, probiotics, marine phytoplankton and 170 Million-Year-Old Jurassic Sea Salt, it's a wee bit over the top. But it's tasty—quite tasty. The first whiff was not enticing, but the taste is rich, robust and balanced, and there are a variety of flavors including the coconut that give it an interesting feel to it. We both finished our pieces and I'm sure the bar will be enjoyed.
Alter Eco Almond 60%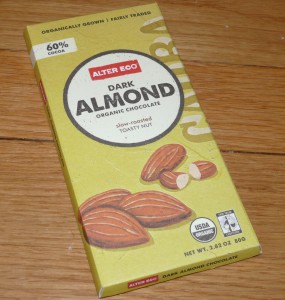 100% organic certified ingredients, 88.5% Fair Trade certified ingredients, Non-GMO verified, gluten free certified, no artificial flavors.
Contains almonds. Made on equipment shared with milk, hazelnuts and soy.
Cheryl 8 Erik 7
I liked this—it was tasty, balanced, sweet, but not too sweet. The chocolate had a lovely flavor, and the almonds gave good crunch. There were small almond pieces vs the big chunks. E liked it, too, but he complained of a slight "bright" flavor. While I think I know what he meant, I didn't see that flavor profile as a negative.
Pascha Organic Chocolate 70%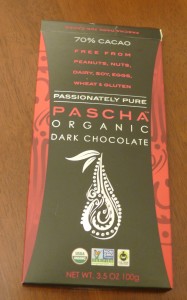 Cheryl 4 Erik 7.5
Ingredients: cocoa mass, sugar, cocoa butter, vanilla (all organic)
Gluten/dairy/soy/nut/peanut free, vegan, no GMOs, dedicated allergen free facility.
I reviewed Pascha last time and hated it, while E liked it a lot. I've read a good handful of blog posts on it and so I wanted to give it a second try. To me, it's chocolaty and creamy with a great mouthfeel, BUT the initial note of flavor is reminiscent of the smell of burnt tires. Erik thought it was really quite tasty. So maybe it's just something I taste that other people don't. I will use it in baking where the flavor is masked.
Cheryl 7, E 4
Ingredients: cocoa mass, sugar cane, cocoa powder, cocoa butter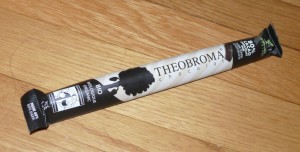 Allergens: may contain nuts, soybean and dairy.
Organic, fair trade certified.
Nice flavor and chocolaty-ness (chocolate-ocity?), and has enough sweetness for me despite the high cacao content. It feels a bit dry, though, which kept me from rating it higher. I often find dry chocolates pair perfectly with a cup of chai, so I look forward to giving that a go! E did not like this much. His first comment was that it tasted like baking chocolate. To be fair, he's not a dark chocolate lover.
Chocolate Covered Cacao Nibs from Nuts.com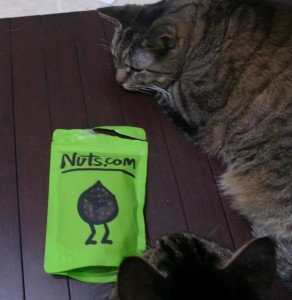 Cheryl 6.5, E 3
Ingredients: Organic cacao nibs, cacao liquor, raw cane sugar, natural sunflower lecithin.
Certified GF, USDA organic, Kosher
The dudes were intent on being in the pic…after fighting it, I opted to roll with it.
Okay, 1st I'll say that I adore nuts.com…but these aren't one of my favorites. The chocolate flavor is awesome, and they've got a nice sweetness as well. But the mouthfeel is funky, and there's an aftertaste that's unpleasant as well. I'll definitely eat them, but I won't be buying them again.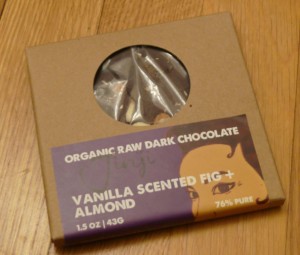 Raw vanilla fig from JinJi chocolate :
Cheryl: 4 Erik:4
Ingredients: Cacao butter, cacao powder, coconut sugar, lucuma powder, almonds, mission figs, mesquite powder, unsweetened coconut, vanilla powder.
Raw, organic, vegan, gluten-free, no refined sugars.
This looked great, and I was excited to try it, but it didn't live up to expectations. The cacao butter gave it a luscious, smooth mouth feel, but there was no chocolate *oomph* and I get chocolate for its chocolaty-ness! No need to finish this one for me, and E declined a second piece. I bet it would have promise with some cacao nibs thrown in but as is, not so much.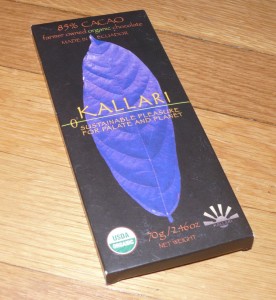 Cheryl 3, E 3
We both had a piece, and we were chewing and waiting…waiting…and E said, "I'm still waiting for the flavor to kick in". That summed it my experience, too. It was bland and I found it dry, too. Unlike many high percentage cacao chocolates, it was not bitter, but it also wasn't rich or flavorful. I appreciate that it's made by small farmers and fair traded, but I eat chocolate for the taste. I'll use the bar I have in baking, and I'll see if I can pick up the ~70% range to see if I like it better.
Rainforest Alliance Certified cacao mass, organic cane sugar, organic cocoa butter, organic whole vanilla bean
Allergen Info: May contain traces of soy, nuts and milk products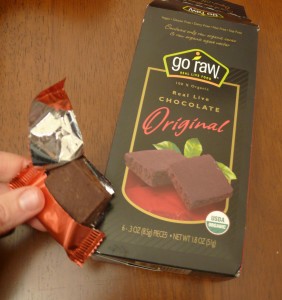 Go Raw Real Life Chocolate Original
Ingredients: Raw organic cacao, raw organic agave nectar
Vegan, certified GF, soy free, real life food, certified organic, Kosher
Cheryl 3 E 4
They're sweet, for sure, and there's a nice cocoa flavor, but the lack of fat makes for a consistency that just isn't pleasurable. As E put it, there's a fudgy-consistency that's somehow dry and desiccating. The agave has an aftertaste as well. Not a bad flavor, mind you, but just very typical of agave vs the more typical taste of sugar-sweetened chocolate. I'll probably eat these sooner or later, but I would not buy them again.
Uli Mana Raw truffle balls: Cheryl: 1, E: 2
Ingredients: raw cacao powder, cacao butter, agave, cacao nibs, vanilla bean, celtic sea salt (raw/organic)
Organic, gluten-free, dairy free.
May contain traces of peanuts, tree nuts and other allergens.
These look cute, but neither of us were fans. They taste like cacao power mixed with agave, with an alcohol aftertaste. I took one bite and offered the rest to Mr. Dude, who declined. I threw it out, and didn't finish the last. Possibly if I were stranded on a dessert island, probably still no. I didn't like them at all.
So my overall list of winners from both lists:
Agree? disagree? Are there more chocolates that I simply *must* try for next time around? Leave me a comment.
Gluten and allergy claims are from the manufacturer, and subject to change!
I'm submitting this to Gluten-Free Wednesdays.  GFW is co-hosted by Linda of Gluten-free Homemaker, Lynn of Lynn's Kitchen Adventures and Cassidy's Craveable Creations.