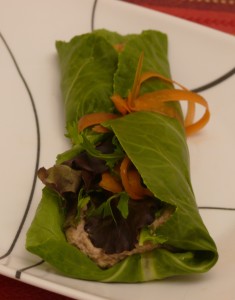 I have a confession to make: collards aren't my favorite. Don't get me wrong, I LOVE kale, adore broccoli rabe, and like turnip greens from time to time. But collards? They're not usually my favorite. When I went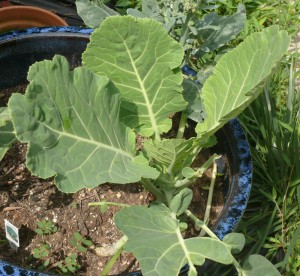 hunting for greens starts, that's all I could find, so that's what I planted.
When the leaves were little and cute, I'd throw them in salads. As they got bigger, I thought they'd make good wraps. I was right.
Unlike some of the other recipes that wrap multiple layers, I've gone for a single wrap vs the doubled-up layer. They're a wee bit "bite-y" for me with too much collard per bite. I also found that rubbing the inside of the collard with olive oil also seems to mellow out the flavor.
2 big 'ole collard leaves
1/2 cup hummus of your choosing
Veggies: 1/2 cup shaved carrots, lettuce, tomato, cukes, sprouts, cilantro, etc… Your collard is your canvass, baby. Go wild.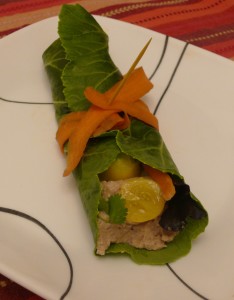 Rub inside of collard leaf with a little olive oil and cut out part of the stem. Put 1/4 cup hummus and 1/2 cup veggies de jour in the collard leaf, wrap the bottom like a burrito and skewer with a toothpick to hold in place.
Surprisingly, these guys travel well and keep well overnight, too. I've made several different variations with whatever veggies I've had on hand. My favorite? Kalamata hummus, carrots, yellow pear tomatoes, red leaf lettuce and cilantro. YUM!
I will hopefully be remembering to submit these to Gluten-Free Wednesdays over at GFE. Gluten Free Wednesdays are a carnival of gluten-free goodies co-hosted by Linda of Gluten-free Homemaker, Shirley of gluten free easily and Lynn of Lynn's Kitchen Adventures. Hop on over for some more good stuff!