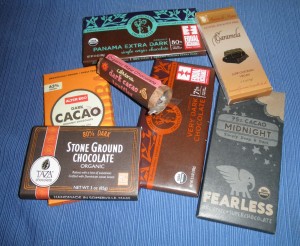 I know, "ultimate guide" sounds like fightin' words, but I'll stand by them. I set out on a mission to try all of the chocolate I could find that is gluten-free, dairy-free and soy-free, and save you the trouble. Especially because many chocolates, like Ghiradelli and Godiva do have potential for contamination, finding a gluten-free chocolate is a priority. And I had so much fun with this list, there's now a Part II.
It all started because my old standby, Trader Joe's 73% purple bar first labeled that it was on shared equipment with wheat, and then "contains traces of wheat". I found a replacement, which Whole Foods promptly stopped carrying. (hiss…boo…) So much on the shelves contains soy lecithin, like Scharffen berger and Endangered Species. While most people are fine with it, I'm definitely not.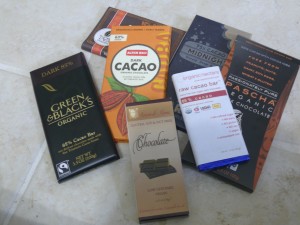 So I was determined to find a chocolate bar that I would love, and I was resoundingly successful. I bought every kind of gluten/dairy/soy free chocolate bar I could get locally. As you'll see, I went for darker chocolate options, and organic and fair-traded whenever possible, because compassion is delicious. What can I say, I'm committed to chocolate quality research.
You're welcome.
Equal Exchange Organic Very Dark Chocolate Organic, fair trade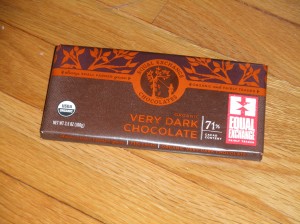 Ingredients: Organic Chocolate Liquor, Organic Raw Cane Sugar, Organic Cocoa Butter, Organic Unrefined Whole Cane Sugar, Organic Ground Vanilla Beans.
Fair traded, vegan.
Warnings:May contain traces of milk, peanuts, hazelnuts, almonds, cashews, pistachios & pecans.
Per manufacturer, tested under 5ppm gluten. Woohoo!
Rating: 9 Mr. Dude and I were both quite taken with this. To tell the truth, since I was meh about the Equal Exchange 80% bar (not reviewed because I forgot to take a picture!) I wasn't expecting to like this, and I was pleasantly delighted. Creamy, smooth, with a raspberry-ish aftertaste, this was a real treat. Mr. Dude's fave.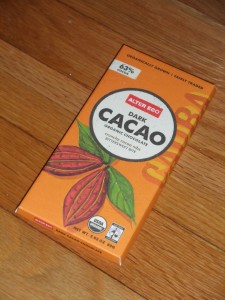 63% Dark Cacao from Alter Eco
Ingredients:Cacao beans, raw cane sugar, cocoa butter, cocoa nibs, vanilla beans.
Rating 9 This is my favorite. It's a sweeter chocolate, and has cacao nibs throughout so there's a perfect pairing of the sweet/creamy and the bitter/crunchy. I love it.
Amore De Mona Caramella squares:
Ingredients:Raw organic agave nectar, cocoa butter, coco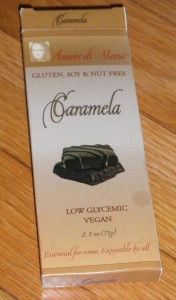 a solids, ground whole vanilla beans.
Gluten-free, gluten-dairy and nut free facility. Fair traded.
Rating: 8 Not quite a chocolate bar, but I couldn't leave it out.These are agave "caramels" wrapped in bittersweet chocolate, and they're totally delicious. They're a little over-sweet, but I really enjoy the ability to go out and BUY a caramel I can eat. I also like the allergen friendliness.

Green and Black's 85% chocolate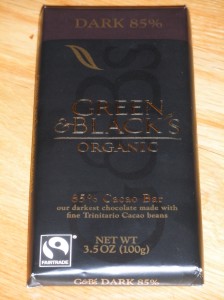 Ingredients: Cocoa, cane sugar, vanilla. Fair traded, organic
Made on equipment that processes milk, soy and tree nuts. No warning about wheat given, and per manufacturer, warnings are given with shared lines.
Rating: 7 Sharp, creamy, balanced and just sweet enough, this was my favorite of the 80%+ chocolates. Yet somehow there wasn't a special enough *oomph* for me to really want more.
UPDATE FEB 2015–THE MANUFACTURER NOW HAS AN ADDITIONAL WARNING ABOUT CEREAL GRAINS USED IN SAME FACTORY.
Gluten-free statement from the manufacturer
Whole Foods Dark Chocolate Almonds 56%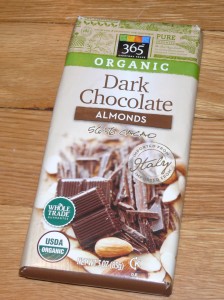 Ingredients: Cane sugar, chocolate liquor, cocoa butter, almonds, vanilla extract. Organic, fairly traded
Warning: contains tree nuts, may contain other nuts, milk and soy.
Rating: 7 I liked this but don't adore it. It's a little sweet for me, but the almond crunch and the chocolate work well together. Tasty.
Fearless Midnight 75% Cacao Chocolate
Ingredients: Cacao, cane sugar. Organic, direct traded.
Warnings: May contain traces of dairy, peanuts and soy from shared equipment. Per manufacturer, gluten- free, and tested for cont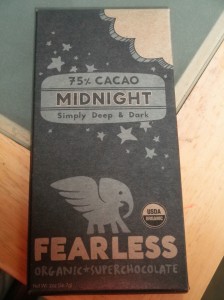 amination.
Rating: 5 The packaging is way too cute, especially inside. It's from Berkeley, they give part of their profits away, etc. so I was pre-biased to like it. I didn't. The chocolate was too bland, and there was no balance to it. It also wasn't smooth enough for my liking and the mouth feel wasn't great. A little vanilla and cocoa butter goes a long way! I ended up using it in baking, and it was workable, but I won't be buying it again.
Pascha Organic Dark Chocolate 55% Cacao with Cocoa Nibs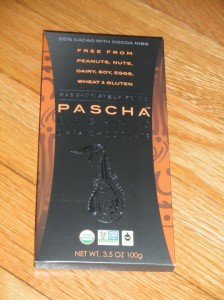 Ingredients: Sugar, cocoa mass, cocoa butter, cocoa nibs and vanilla. Vegan, top 8 allergen free
Rating: 3 (me) 7 (Mr. Dude) I was excited based on the package and expected to love this, but it didn't do much for me. There was an overly intense sweetness that tasted unbalanced and unwelcome. I gave it to Mr. Dude to finish–I'd eat it if I were stranded on an island, but I'd happily pass it up.
Organic Nectars 85% Raw Cacao Bar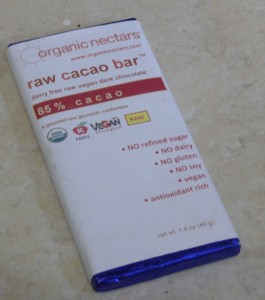 Ingredients: 85% raw cacao (raw cacao nibs, raw cacao butter) coconut palm sugar, Madagascar Vanilla, non-GMO sunflower lecithin.
Raw, vegan, organic, made without refined sweeteners. Gluten-free per manufacturer.
Rating 3: Dry. I can't think of any other way to put it. It's like the opposite of melts in your mouth. The flavor is nice, although not exactly like chocolate, but it's the texture and the lack of creamy meltiness that un-does it for me.
Amore de Mona Chocolate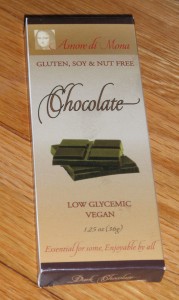 Ingredients: Cocoa butter, cocoa solids, raw organic agave nectar.
Gluten, soy and nut free & a dedicated facility. Refined sugar free, vegan.
Rating: 2 I almost feel guilty because I LOVE the Caramella squares, but these also fell into the "wanna love them and totally don't" category. The texture is absolutely lacking. I'd melt it as a sauce on something because the flavor is fine, and I know it's hard making something without sugar, but I swear my home-made chocolate is so much better.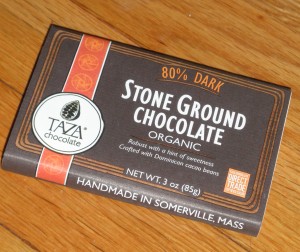 80% Dark Stone Ground Chocolate
Ingredients: cacao beans, cane sugar, cocoa butter.
Certified gluten-free through GFCO, organic, direct trade.
Rating: 1 Yuck. I mean, I loathed this one. The chocolate taste was fine, but the grittiness was a huge & insurmountable turn off for me. I didn't finish it and will leave the rest for a baking project.
Note: I bought all of this chocolate myself and my views are my own. Generally, I avoid negative reviews, but I also think (hope!) it's useful to my fellow choco-holics.
Always see manufacturer for updated allergen info.
Agree? Disagree? What's your favorite chocolate?
I'm submitting this chocolate review to Gluten Free Wednesdays, a carnival of gluten-free goodies co-hosted by Linda of Gluten-free Homemaker, Shirley of gluten free easily and Lynn of Lynn's Kitchen Adventures. Hop on over for some more yum!