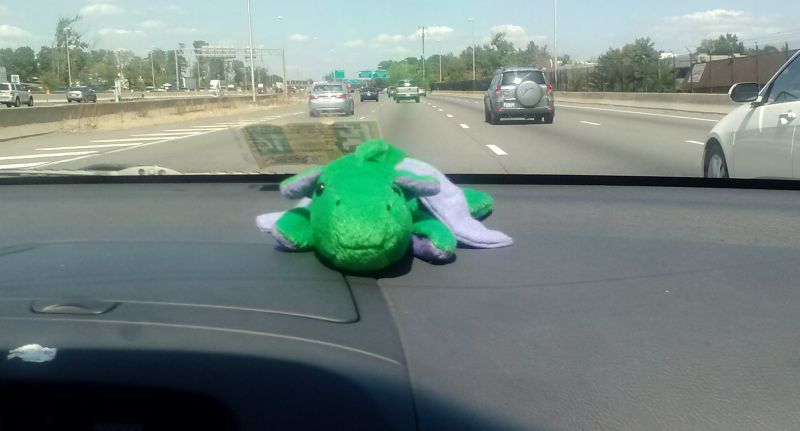 Everybody say hi Edgar! Edgar is my dragon co-pilot. Just for the record, he's not a hippo, and he's not a dinosaur, thankyouverymuch. He's a dragon, and generally a happy dragon. To tell you the truth, I'm not a happy driver. Although I have lived in NY and MA, I never drove much when I was there. Since an accident in the snow a few years, it's definitely a struggle. Traffic gets me kinda jumpy, and so does snow, ice and crazy people. So perhaps DC isn't the place for me this winter, but here we are.
Seeing Edgar's happy little face makes the drive more peaceful. I mean, if the dragon in your car isn't mad or breathing fire, the guy who cut me off can't be THAT bad, right? I appreciate his vote of support, and as strange as it sounds, I do think I'm more relaxed with him on my dashboard.
And no, I was not driving when I took Edgar's pic.
Apparently the dragon love has gotten trendy, so if you need a smile, do check out this letter from a 7 year old asking the Australian Science Agency for a dragon for Christmas.