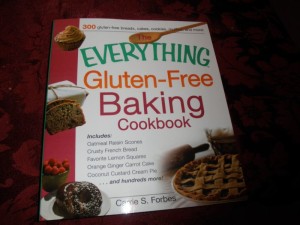 Hopefully you've seen Carrie's wonderful new book, the Everything Gluten-Free Baking Cookbook?
I'm a big fan of Carrie's baking, so I was really looking forward to this book! But I have a confession to make. With all of my dietary limitations, finding recipes in a cookbook can be challenging. Often, the only thing that is gluten, dairy and egg free and low sugar in a cookbook is one measly cracker recipe. And it's hard to get excited about crackers.
So, I was extremely delighted to see a vegan chapter AND a low glycemic chapter. Lots of Cheryl-friendly recipes, and a really wide range of recipes overall. Holiday recipes, decadent recipes, grain-free recipes…something for anyone/everyone. I also really appreciate that most of the recipes only use 2-3 kinds of flours, and others use mixes, so that fits well both for the DIY crowd and the simple/easy folks.
Since I like to be an overachiever, I made 3 recipes just to make sure everything was delicious: the mini flourless cupcakes, the Cinnamon Peach Crisp and the Banana Scones. (for the record, the scones and the cupcakes aren't vegan)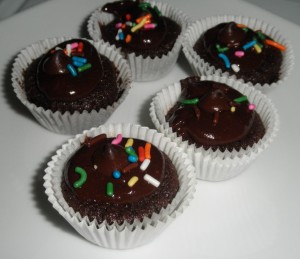 The cupcakes were a present for my sweetie, and they were a huge hit. Really easy, simple ingredients, and a perfect canvas for other flavor I love mini cupcakes because they were so adorable, and they are naturally gluten-free, too. Mr. Dude loved them, and they were very well appreciated at his office, too. The recipe is also quite forgiving. I made 2 dozen of the minis and used the rest of the batter in a mini-springform pan because I didn't have the patience to wait for the pans to cool, and it worked perfectly.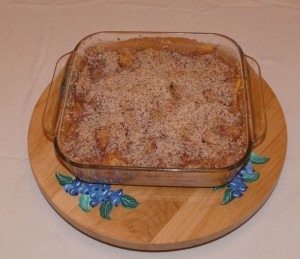 I made the Cinnamon Peach Crisp when we had my aunt and uncle visiting. Since peaches were still in season, we obviously used fresh. Ours must have been super juicy, because there was way too much moisture…super yummy moisture, but I'll probably add in a little tapioca when I make it again. The four of us most thoroughly enjoyed it, and it was dreamy a la mode.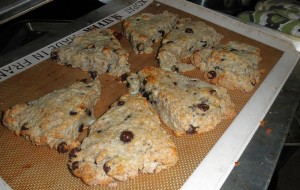 I also made the Banana Chocolate Chip Scone recipe. I was really intrigued by this because I used to make scones way back in the day. Flour, butter, cream, cranberries, orange rind and a little sugar. These were totally different, with bananas adding moisture, binding and flavor. Interestingly, Mr. Dude liked these better than 'normal' scones because they were a little moister. They also kept well.
And onto the giveaway: I'm giving away a signed copy of Carrie's book. It's not a publisher promotion and I am not receiving compensation, I just think it's a great one to add to any gluten-free baker's library.
So, to enter, you can do one or several of the options below:
Leave a comment below with why you'd like to win the book!
Follow me on Twitter @CherylHarrisRD & leave a comment to let me know
Follow Carrie on Twitter @ GingerLemonGirl
Share this giveaway on Twitter, Facebook or both & leave a comment to let me know
And the winner is…Kalya!
I love baking sweets and treats as my anti stress during the crazy college semesters and recently, just a few months ago, I found out that I must eat gluten-free. I have found it difficult to bake all the sweets and treats in an easy gluten-free method that not only tastes good,but doesn't take 12 hours to do. I would love to learn all the easy methods to make baked goods gluten free so that I can enjoy them after I bake them
Contest will end Sunday, October 13th at 10pm EST. Limited to U.S. addresses.
ps—if you don't leave an email address, I have no way to let you know if you win, so please do.
pps–I did a guest blog post on Tasting Life through Food for Jonathan of The Canary Files. Check it out!