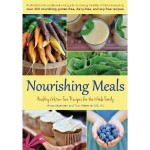 I figured that since one giveaway was fun…wouldn't 3 be much more fun?  I thought so, too. This is a giveaway of TWO signed copies of Alissa Segersten's & Tom Malterre's new book Nourishing Meals.  And just as a sneak preview, giveaway # 3 is *signed* copy of Ginger Lemon Girl's new soon-to-be released cookbook, Everything Gluten-Free Slow Cooker Cookbook.
Certain cookbooks you know you love before you open them, and this was absolutely one. I have the Whole Life Nutrition Cookbook on my shelf at home and work, and love that there is such a variety of recipes. Many authors drift toward just vegan, or just grain-free, or just sugar-free. This cookbook has something for everyone!
I reviewed Ali's Chocolate cupcakes a while back, so I wanted to review something totally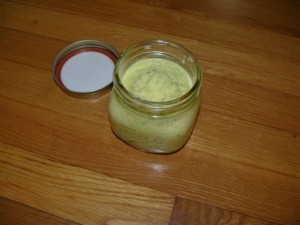 different.  Since I can't eat vinegar, dressings have been off limits a long time, so I was intrigued by the Green Apple Dressing.
Simple, delicious, quick…what more could I ask for? But since I had such a big apple—got a Mitzu from the Farmer's Market—after one taste, I decided it would be a perfect complement to kale.
So, I simmered kale with a quart of stock and a double portion of the dressing, and it was AMAZING. Sweet, gingery-spicy…perfect.
I do hope you check out Ali's cookbook. To enter to win one of the 2 copies which were generously donated by the author, do any or all of the following, and leave a comment on THIS post letting me know you did:
CONGRATS to Courtney and Stephanie for winning the cookbooks!
What do you most enjoy about Ali's recipes?

Tweet

about this giveaway or post to FB &leave me a comment to let me know.
Follow me

@

CherylharrisRD on Twitter and leave me a comment to let me know you did.
Follow Ali on Twitter @nourishingmeals and leave me a comment to let me know.
And, of course, MAKE SURE YOU GIVE ME YOUR EMAIL ADDRESS! That way you'll know you won!
This giveaway ends Weds, Sept 26th at midnight EST. Best of luck!