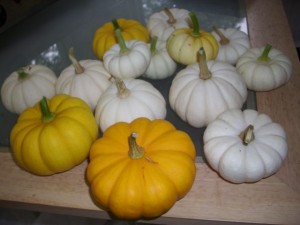 I grow mini pumpkins every year. I just love watching 'em grow. I never grow the large ones because they're so huge. So maybe in June, I saw a baby pumpkin plant volunteer in our front yard. I mean, after all these years, I KNOW what a squash plant looks like. E insisted that it was just a weed, and we negotiated fo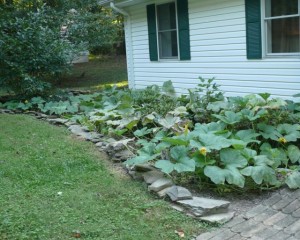 r this weed NOS (not otherwise specified) to keep his chosen spot and see who was right.
Now, if you've ever seen a pumpkin patch, you know this is exactly what it looks like. We've got 50 feet of pumpkin vines.  Squash blossoms galore. Except…there were no pumpkins.
I started to worry a little. I mean, how could I gloat without proof that I was right?
And then I spied him: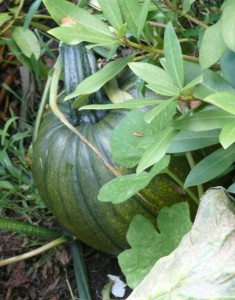 And here he is today, maybe 2 weeks after:
Isn't he cute???
We do have the little guys, too, but I'm loving the big one best. And being able to say "I told you so"