I will be the first to admit feeling very dubious about cookies that didn't have chocolate.  In my mind, a cookie is a tasty vessel for chocolate.  Oatmeal raisin cookies were posers and I couldn't imagine why someone would want to eat one.  My idea of a perfect cookie was a chocolate cookie with chocolate chips, or at the very least, a vanilla cookie that was redeemed by dipping in chocolate.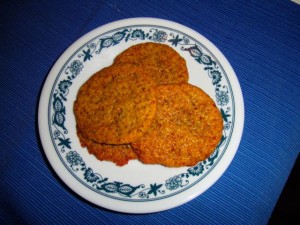 And yet I have learned that for now, I just can't tolerate chocolate, and I still like cookies, and so I've had to change my ways and, um, eat my words.
We have now been officially living in our new house for a year, and out of the blue, a neighbor invited us to dinner for the next evening.  Now, clearly I needed to bring something yummy, and I didn't have any time to plan, so I put these together and hoped for the best.  And not only did I really enjoy them, but they kept well overnight.
They're chewy, melty, and have a subtle but delightful sweetness. I think I might try them with hazelnuts at some point to give a more identifiably specific flavor (they don't really taste like cashews) but I really like them as is.  And, it only took a few minutes to put them together, which made them perfect for a  weeknight project.
Cashew cookies
1.5 cups roasted salted cashews
2 Tablespoons coconut oil
½ cup arrowroot flour
2/3 cup coconut sugar
1 dropper full of vanilla stevia extract
Pinch of vanilla powder (maybe 1 tsp vanilla extract?)
¼ cup maple syrup
Put cashews in the food processor and grind cashews until smooth.  Add in the coconut oil and keep going 1 min more.  Add in the flour, sugar and vanilla and pulse.  Add in maple syrup, pulse and it will thicken quickly.
Roll into 1 inch balls, smoosh down.  Bake at 350 for 10-12 min or just starting to brown.
Nom nom nom nom nom nom….
I will be adding these to Ricki's Wellness Weekends, so check back to see other great options. I'll also be bringing them to Shirley's Virtual Support Group.  I hope there's enough to go around!