It has been such a busy week! The first webinar in the series, Celiac Disease, What Every RD Should Know is up and it's fantastic, if I say so myself.  And yet all the fun V day stuff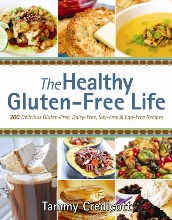 and my Valentine having a tummy bug have contributed to my slowness with posting.
This is a neat one.  I got a copy of "The Healthy Gluten Free Life" by Tammy Credicott, and I was surprised! I knew it was gluten free, but  I didn't realize it was gluten, dairy, soy AND egg free.  Yahoo!  As you can see from my header, that's right up my alley.  Some recipes were grain free, too.
And I think why I struggle so much with book reviews is that I want to make EVERYTHING.  Just doesn't work, ya know?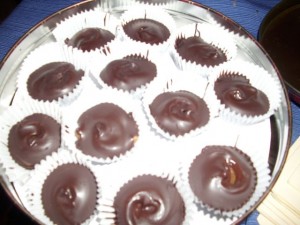 I did make the Butter Cups and the Maple Spiced Pecans (but did walnuts instead).  I've always been fond of spiced nuts, so this was a no brainer to try out.The spicing was perfect for the walnuts, and the subtle sweetness completed the flavor well.  And it took 7 or 8 minutes to make.  I would use a coarser grain salt next time, but I would certainly make it again.  And you can't go wrong when you put nutbutter in chocolate.  It's biologically impossible.  Enough said.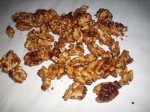 The pie apples sound delicious, and we've made something similar for years, just with the skins.  Ditto on the Rosemary Kale soup—I may actually make that tonight!
If you're someone who loves pictures of the food to accompany recipes, you will love this book.
My only complaint is that it is very heavy due to all the beautiful pictures…if I'd seen it on a shelf, I would have passed it over because of my sometimes squawking joints.  Kindle edition, please???