I'm delighted to participate in Adopt a Gluten-Free Blogger as hosted by the incomparable Wendy of Celiacs in the House, because it "forces" me to branch out and try new amazing things.  This month, my adoptee was Lexie of Lexie's Kitchen. I first saw her recipes during Detox January and love her real foods, real life approach.  I do truly appreciate her candor about her own journey toward healing with her family, and of course, I appreciate that her restrictions and mine semi-line up, too.  It takes a certain kind of daring to put beans in a cake (or pie, in my case) and I love it!
As is my custom, I did an adoption and an adaption.  Because I have so many food restrictions, it's very rare that I can make a recipe as is and eat at too, and, well, that's the fun part.  For the adoption I made Lexie's Scones as written, and they were terrific.  The guys (glutinovores) demolished them.  Chocolate chips, a few heath bar chips (lactose free but not dairy free) and coffee liquor to boot.  We're entertaining, and I tend to get a bit carried away despite my best intentions.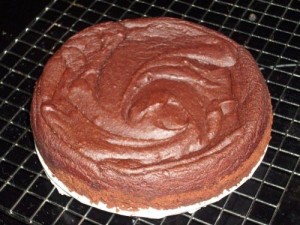 And the chocolate cake…oh, the chocolate cake.  I had to make a few tweaks because I can't have any cane sugar, so I subbed the chips for 2 oz of Scharffenberger 100% and upped the cashews to a generous 2/3 a cup to compensate for the lack of cocoa butter.  I couldn't resist using Thai tea instead of the water (just the boiled tea, not the cream), and it gave a much richer, more complex flavor that was absolutely stunning.  I also added in a generous 1/4 tsp stevia powder to compensate for the sugar in the chips, a pinch of vanilla and a pinch of salt.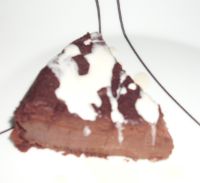 It was amazing.  I mean, really out of this world.  We served it with cashew creme.  I will definitely make it again, but NOT in my Vitamix. I don't know if it's my blender, but it just doesn't do well with very thick mixes like this one and makes horrible noises (I thought I must have left a spoon in!) and starts to smell like there's something burning in the gears. I've talked to the Vitamix people in the past and they've basically said that it works perfectly and that the recipes just have too little liquid…I don't know.  I'd love to hear someone else's experience, but either way, it won't work with MY machine, which is what counts for me!  I will try this in my food processor next time, because it's absolutely a keeper.
So, I'd heartily recommend Lexie's recipes, and truly, the chocolate cake is to die for in any incarnation.
Please stop by Wendy's blog for the roundup of other adoptions!