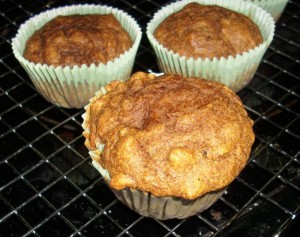 Whew! I am just under the line with this adoption, and I'm glad that I've seen so many other Adopt a GF Blogger posts, each of which have served as a gentle reminder that I needed to get my act in gear!
This month's adoption was a fun one. I adopted Melissa of Gluten-free for Good and made her Pumpkin Pecan Boyfriend Bait and her Sweet and Spicy Moroccan Stew. I've enjoyed Melissa's blend of great recipes and fun nutritional musings, including one on intelligence and curviness in women. Maybe that makes the dude who wrote the "I Like Big Butts" song a visionary who inspired us to interesting research?
As a fellow nutrition professional, I appreciate Melissa's love of real, whole, unprocessed foods, her appreciation for an active lifestyle and of course, her holistic approach.
I had to make the boy bait, of course, because who could resist with that kind of title?  And DH loved them.  They were still moist and flavorful the next day, which is never a given in gluten-freeville.  And, of course, I liked the fact that they were not heavily sweetened.  I ended up making them with coconut sugar, which worked perfectly, and I think I'd try them again with a whole grain gf flour mix.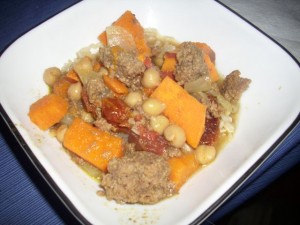 The Moroccan Sweet and Spicy stew was quite delicious.  It made a big pot and so it was delightful to have leftovers the next day.  I blended in the meat of a young coconut instead of coconut milk, and I wished that I had two for a creamier coconut taste, and I would totally do that next time!  I even got to use roasted tomatoes from my garden which have been lurking in the freezer, which made the dish even more special.
Check out Melissa's site for a wealth of other recipes and information!