First, the fun stuff! I had a Menu Plan Giveaway and the winner is *drumroll please* Heather of Celiac Family! Yay yummy stuff.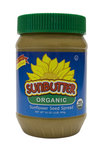 And onward to menu planning. I'm delighted to host, especially since I've been so busy so this forces me to plan, which is always so helpful. This week's ingredient is Sunbutter AKA sunflower seed butter, or, if you're one of those 'weird' people who can eat PB, that works, too. (for the record–I'm totally joking…I would LOVE to eat PB again, but alas no) I love sunbutter, particularly the sugar free one, because it's such a yummy and versatile ingredient. In cookies, on apples, in 'pb' sauces…I love it across the board.  I'll be posting Chocolate Sunbutter cookies later this week to celebrate our ingredient, and look forward to seeing how all of you use it, too!
What a lovely week here…my daffodils are popping up, and Spring is flirting with us. It's delightful to see.
I have not been able to bake much lately, but hope to get back more in the kitchen this week. And I'm having a class on Healthy GF eating on Saturday, so if you're in the Alexandria area, sign up! We'll be making quinoa and millet, and having Nana Skillet Bread, too.
And, of course, as always, looking for Menu Swap hosts.  Email me cheryl (at) eharrishome (dot) com
Monday:
Chicken in coconut/kaffir lime sauce with broccoli
Tuesday:
hummus and peppers
Weds:
Rosemary salmon and asparagus (I know I should wait, but I can't!)
Thursday:
Turkey and celery in chestnut sauce
Friday:
Leftovers
Saturday:
Quinoa, millet and more!
And everyone else?
Heather of Celiac Family is totally ready for summer, and has salads on the lineup.  She's been doing Chicken Tikka Masala regularly, and I'm going to have to try it soon.
Scrumptious of In my (CSA) box has, as usual, a lovely vegan lineup, including one my my very favorite things: cabbage with cumin seeds.  Make some extra and I'll have to pop on by!