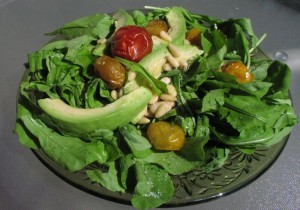 I'm a springtime and summer kinda gal, and the winter months tend to get me down.  This salad is small a taste of summertime goodness to remind me of what I'm (eventually) looking forward to!  And this was such a bright and sunny day, too.
This non-recipe is very simple, and uses arugula from my (mini) indoor garden and roasted tomatoes that I made and roasted this summer.
3 cups arugula leaves
1-2 tablespoons of olive oil (may not be needed if your tomatoes are packed in oil)
juice of half a lemon or balsamic vinegar to taste
black pepper and sea salt to taste
1/4 cup toasted pine nuts
1/2 avocado, sliced
handful of roasted tomatoes, chopped or whole
Mix arugula, oil, salt, pepper, and lemon. Add other ingredients on top and enjoy! Best if eaten in the first hour of preparing, otherwise the arugula gets soggy.