This week's food is potatoes, and although I really like potatoes, my body does not share my enthusiasm. So no potatoes for me.
Also, just as an FYI, I put out a monthly newsletter on being GF and healthy, and the latest edition is here.
Despite a new baby in the house, Cooking Illustrated is this week's kind hostess. 
So here's my plan:

Monday:
Thai inspired:
Thai Curry with Basil (leftovers!)
Spiced Black Rice Pudding
Tuesday:
At a conference…
Wednesday:
Chinese!
Chicken and stir fry veggies in a Szechwan sauce, as inspired by Book of Yum
Thursday:
Vegan
Herbed quinoa in broth with an avocado
Friday:
Brined turkey, roasted with fresh herbs with roasted asparagus
Saturday:
Soup with turkey leftovers, a bunch of veggies and carrot tops from my garden–I have a bunch of carrots that overwintered and are mealy, but have discovered that using the tops in soup like dill is delicious! So now the neighborhood bunny and share them.
Weekly baked good:
Biscotti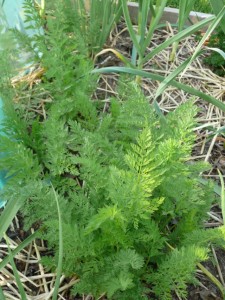 Weekly Garden Harvest:
From my garden:
Basil
Thyme
Oregano
Carrot tops
Garlic shoots
From the Farmer's Market:
Bok Choy
Greenhouse tomatoes
Asparagus