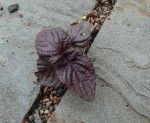 I was out getting my garden ready, when I spied this little guy coming out of a crack in our patio. Isn't he cute? I was surprised for a few reasons. First, he seeded himself; second, we just had a frost, and generally basil aren't frost tolerant, and third, my husband often holds small martial arts classes on the patio, making him quite a target. Since DH had a class that night, I decided to pick him rather than tempt the fates.
I figured that considering what he'd been through, he deserved a starring role in Weekend Herb Blogger. I'll be submitting him for next week's edition, which is hosted by Mediterranean Cooking in Alaska.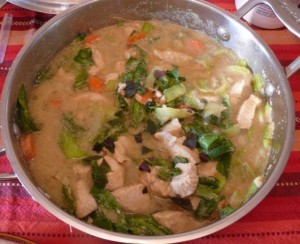 I used the basil as a garnish for a simple and easy Thai style curry. I used home made red curry paste, but I'm sure commercial would work just as well. I also used bok choy because I couldn't resist it at the Farmer's Market, but I'm sure serving it with steamed broccoli would work just as well.
There are many kinds of basil, this basil was originally a gift from a friend from Vietnam, from his mom's garden. It tastes a bit like Thai holy basil, but there's a different twist to it.
2 tablespoons of oil
1 tablespoon minced ginger
6 cloves of garlic, minced
3 tablespoons red curry paste (a little more or less according to taste)
1 stalk of lemongrass, bruised
1 can coconut milk
3 baby bok choy, sliced
4 carrots, sliced thinly
1 lb chicken breast in cubes (you could pretty much use any protein here: shrimp, tofu, etc.)
Heat oil, saute ginger and garlic over medium heat for 2-3 minutes. Add curry paste and continue. Add sliced bok choy, then coconut milk, and bring almost to a boil. Simmer for 5 min, add carrots, and simmer 5 minutes more. Add chicken breast and poach until done.
Sprinkle with basil, serve with brown rice.
~from Cheryl's kitchen ©2008