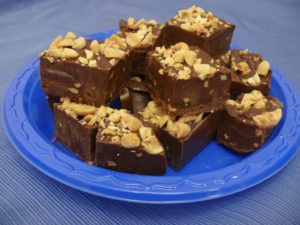 I've been blogging for 9 years now. 9 years! So, to celebrate, I give you fudge.
I love peanut butter. Lovelovelovelovelovelovelove. And I avoided it for years, and then gradually reintroduced it a decade later…no problem at all. So I'm making up for lost time with my beloved peanut butter.
E loves this fudge, and it was actually the dessert that disappeared first at our annual party. I adore this fudge, but my tastes can be a little…different, since I rarely eat sweeteners.  So I have ample reassurance that it has wide appeal beyond just super crunchy people like me.
And it's easy. And you can make it ahead for a party. Pretty awesome, I tell ya!
4.5 oz unsweetened chocolate
1 cup PB (unsalted, crunchy is super-awesome)
3 TBSP coconut oil
1 cup creamed honey*
2 tsp vanilla stevia (optional)
½ tsp sea salt
¼ cup chopped salted peanuts
Melt the chocolate–90 seconds in a heavy glass bowl in the microwave, or use a double boiler. Stir in the peanut butter, coconut oil and creamed honey until combined, and then stir in the salt.
If it's not sweet enough, add in the stevia. It seems to depend on the kind of creamed honey. Sometimes it's already perfect without.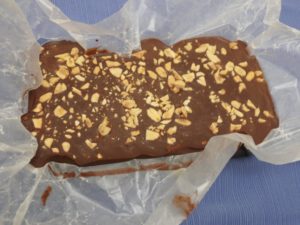 Pour the fudgy mix into a a bread pan lined with wax paper. Press chopped peanuts into the top.
Refrigerate overnight.
Cut into pieces and enjoy!
*creamed honey is honey with air whipped in Thanks to Shirley, I learned something new about creamed honey! It's actually crystallized differently than regular honey. I get it at a monastery I go to, but I've seen it at Whole Foods and Trader Joe's, too. I don't think regular honey would work.