UPDATE NOV 11th: Butterball apologized for their mistake and edited their website to remove the problematic sentence. Many thanks to you for your help getting their attention, and keeping fellow gluten-free peeps safe!
I'm one of those g-free advocates that gets cross-eyed when I see ignorant comments online. But my head starts spinning when it comes to mistakes from large companies who have a specific responsibility to know better. Yes, I'm talking to you, Butterball. I was updating my yearly gluten-free Thanksgiving newsletter and I saw this doozy: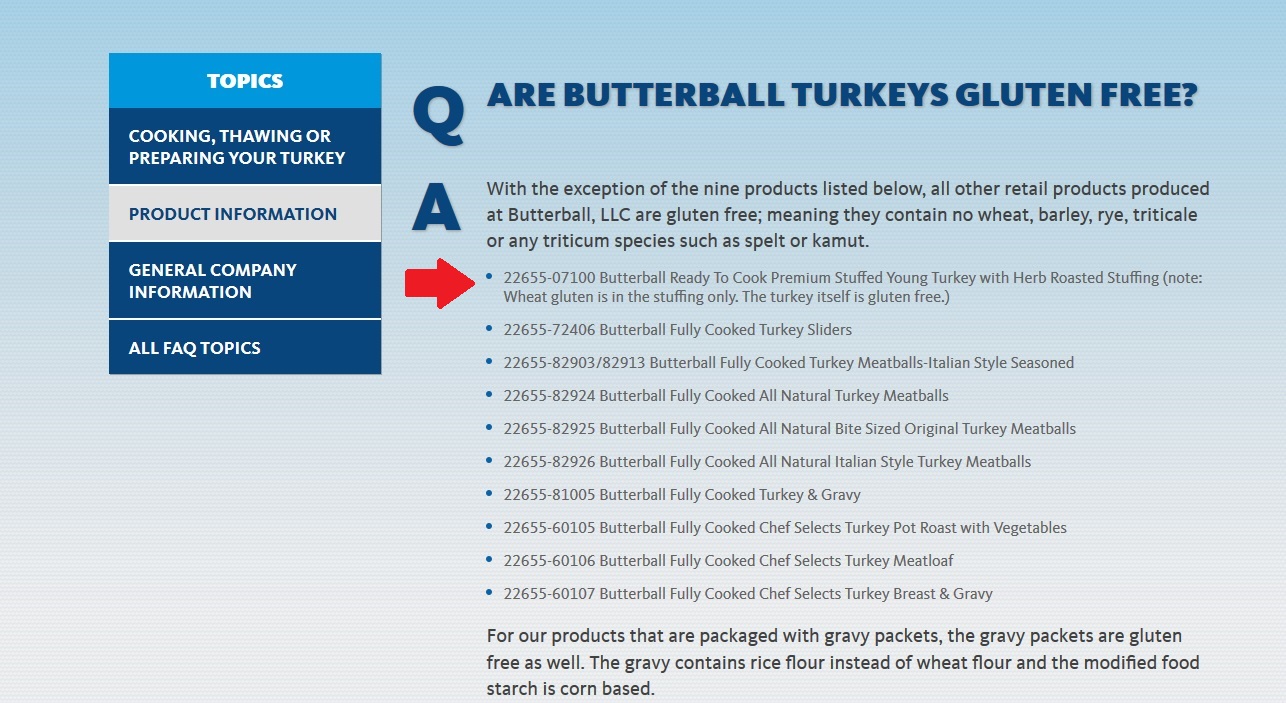 So if you look closely above, you'll see the problem
22655-07100 Butterball Ready To Cook Premium Stuffed Young Turkey with Herb Roasted Stuffing (note: Wheat gluten is in the stuffing only. The turkey itself is gluten free.)
Yes, they've listed as exceptions and not gluten-free, but the problem is this line:note: Wheat gluten is in the stuffing only. The turkey itself is gluten free.
Um, no. The turkey WAS gluten-free. Then you stuffed it. It is no longer gluten-free. Poof. Magic. Presto chango. Now gluten-full.
So I know many of you are thinking, well, I know better, and I bet you do. Or maybe you're thinking, well, I buy a free range turkey so it doesn't matter to me.
But it does. If Butterball is one of the main sellers of turkey in this country, that's a problem. Especially since I'm sure that everyone has heard the "oh, just eat around the stuffing/pie crust/crouton" BS at least once, if not 10 times. They can do better and they need to start. Like, now.
Pretty please, make my day and nudge Butterball to change their website. They owe the gluten-free community clear and accurate information.