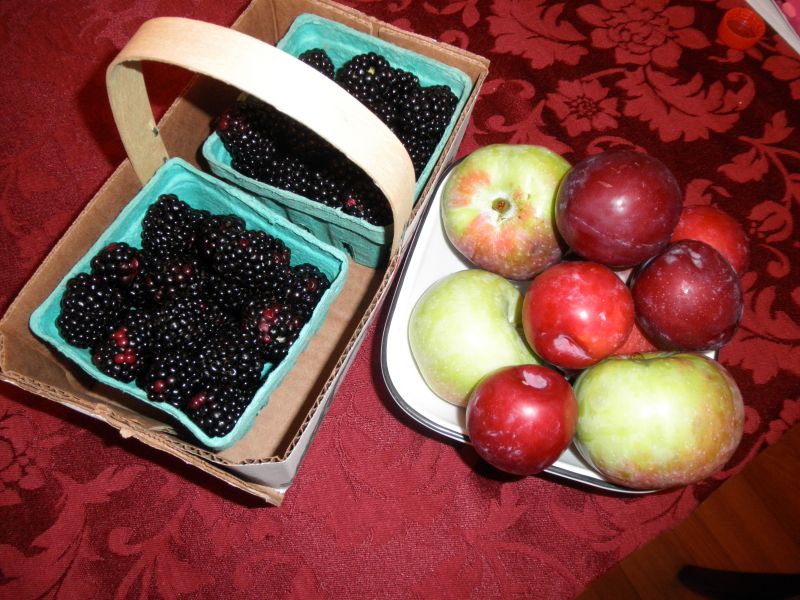 The summer has flown by so fast…I don't ever remember having such a sense of disbelief that it's almost over, yet here we are. I will absolutely be doing a round-up on the July Self-Care Retreat…soon…as soon as I dig out from the pile of work that I'm under!
Speaking of work, I have a summary of the new g-free legislation here and ideas for g-free breakfasts here.
I'm glad to be hosting this week's menu plan on plums because obviously I HAD to go out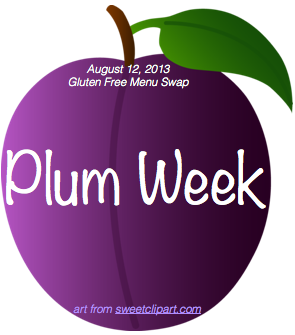 and buy some. I love plums—especially greengage plums. I haven't seen them yet this year, and I fear I've missed them! Please tell me if they're still to come—I didn't see them the last few weeks.
While plums are simply delicious no matter what, I love them as plum butter, which is beyond awesome. Or I pit a bunch, puree them and cook that down as a sauce for broccoli, chicken…whatever. I look forward to hearing all the ways you use plums!
E has been doing a lot of travel this summer, which in some ways is fabulous—I can take it easy in the kitchen. In theory, he needs a batch of Carrie's Cookies for his next trip, but I'm not sure I've got the time. We'll see.
The menu for this week is pretty basic. I have not felt like cooking lately, although I've been making chocolate cake(s).
Monday
Roasted veggies and Canellini beans

Tues:
Baby greens with Kalamata hummus
Weds:
Rosemary salmon and roasted broccoli
Thurs:
Leftovers!
Friday:
Freezer diving: beef stew
And everyone else?
Heather of Celiac Family is making plum sauce for her pancakes, which sounds awesome. She also is giving away the new Pillsbury G-Free dough, so hop on over and check it out!
Did you know plums don't grow in Florida? (I didn't) I learned something new from Elisabeth of The Girl who couldn't eat anything.  She's got Mango and Coconut rice pudding on her menu, which looks amazing.
I LOVE the idea of Angela's Slow Cooker Plum Chicken! The rest of her menu looks delicious, including her Chocolate Zucchini Bread.
Amanda of Gluten-Free Detroit Metro mentions grilling plums and now I'm curious. Anyone try it? They may be a little small, but I bet the taste would be fabulous. She's got Salmon cakes and lettuce wraps on this week's menu.
Kendra of A Peaceful Mom has such adorable Apple Sandwiches on the menu. I bet they'd be a total lunchbox hit!
Wanna host the menu swap? Go head over to Heather of Celiac Family for the schedule of events and her yummy meal plans.