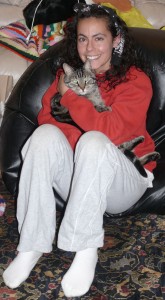 I'm a gluten-free baker. A cook. A gardener. A nutritionist. A kitty-momma. So many labels I enjoy, and my least favorite is someone who has had physical difficulties for over the past 7 years.
I'm very, very lucky that I can walk now, and my difficulty walking and standing doesn't interfere that much with my day-to-day work. It DOES, however, get in the way of most of life. I can't hike, which was my favorite thing. Forget the joy of dancing, or moving with ease. Travel is tremendously difficult. Ice and snow scare the bejeezus out of me. It's hard, especially the nearly non-stop pain.
But of all those things, what hurts most is the shame I feel. I hate the carts at the grocery store. I hate the way people look at me when I have to be in a wheelchair. I hate the thought of someone "finding out" about my limitations. I hate my own judgments of myself, my body, my worth based on my ability to walk easily. I hate the fear I feel that I will fall and have a setback, as I did in October. But most of all, I hate the emotional cage that I've created out of fear, self-doubt and insecurity.
And, quite frankly, I'm frustrated. I talk to my clients about self-acceptance as it relates to weight, and there seems something rather ingenuine in promoting others to do what I haven't yet. It's not the same situation, of course, but the core remains constant. I can't just pick and choose. I don't think I can really accept some parts of myself while actively shutting out others, and authenticity matters to me.
It matters.