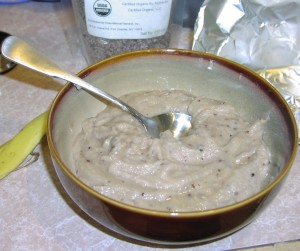 I was at my meditation class, trying to empty my mind, but all I could think of was Cashew Macadamia butter. If you've had it, you'll understand why. Cashew macadamia butter is one of the most indulgently blissful things on the planet. So I promised myself I'd whip this together when I got home so that I could get back to concentrating on…well, not concentrating on anything.
This dip is fabulous to eat by the spoonful, as a frosting, on fruit, a sandwich, whatever! It's a bit like a blond nutella.  I added a bit of agave because my banana was just barely ripe and I was impatient. If you've got a ripe banana, it's probably not necessary.

This is my submission to the PB Boy's Great Peanut Butter Exhibition #4–No Bake. You'll notice that there's no PB involved, since I am allergic, but "cousin" nut butters are allowed. I bet PB would work, though.
1/2 cup roasted Cashew Macadamia butter
1 ripe banana
2 Tablespoons agave, or to taste
1 Tablespoon cacao nibs
Either combine all ingredients thoroughly by hand, or do it the lazy way. Put the first 3 in a food processor, and let it do all the work.  Then add in cocoa nibs and enjoy!