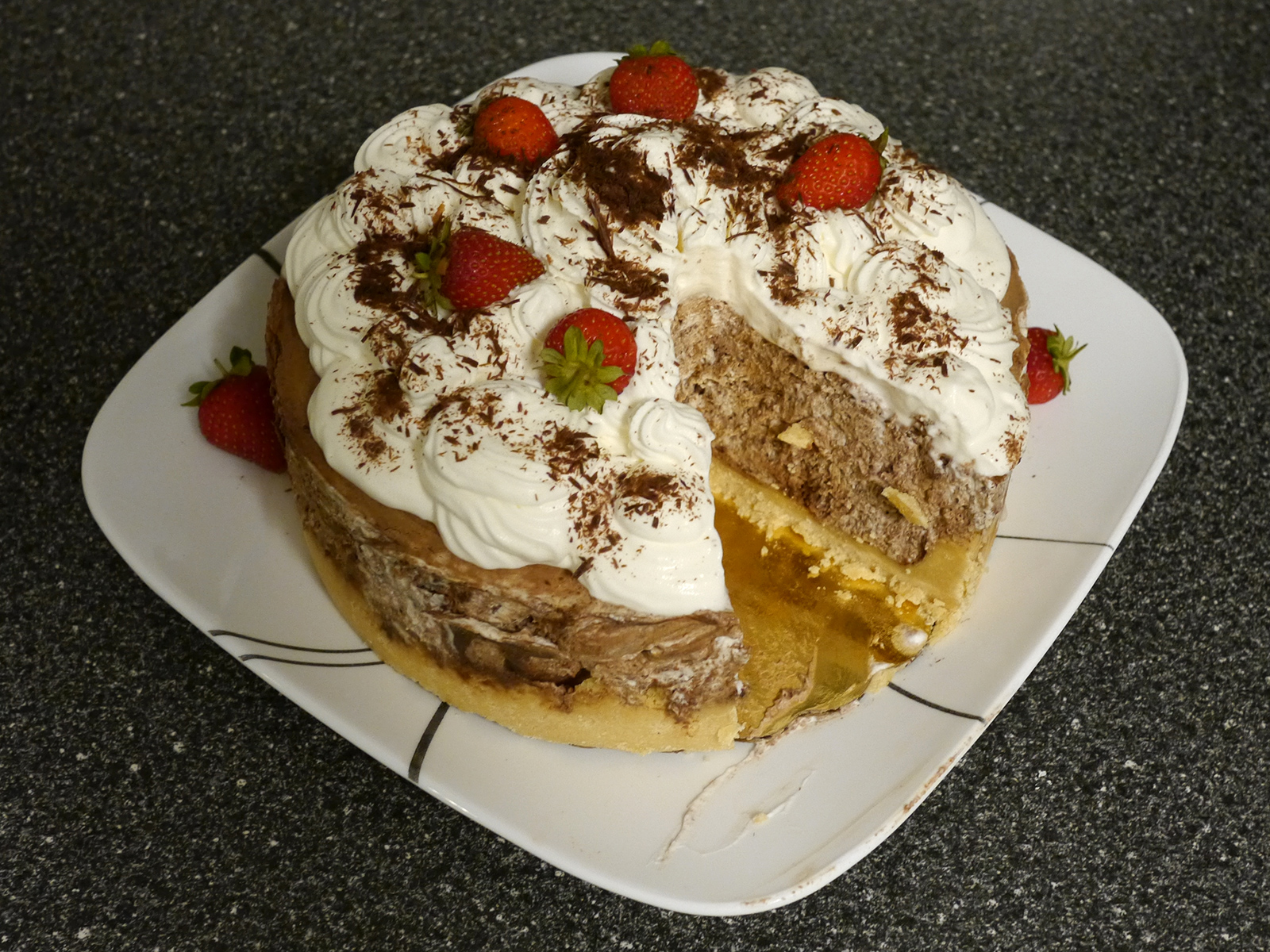 It's a simple name, but don't be fooled…it's an elegant cake.
I wanted to make a cake. And Mr. E wanted a cake. Since my hands and arms have been increasingly problematic, the only criteria was something that required little work–but looked really pretty, of course.
This was his birthday present last year, and a thank you present this year.
9-inch springform pan, well buttered, bottom lined with parchment or wax paper
2 boxes of Walker's gluten-free shortbread cookie, 4.9 oz each
5 TBSP salted butter, melted
Pinch vanilla powder OR ½ tsp vanilla extract
1 TBSP sugar
—–
10 oz of good quality semi sweet chocolate (I use Guittard chips)
3 ½ cups of cold heavy cream, divided
1/4 cup granulated sugar, divided
1 tsp vanilla
Pinch salt
Read instructions 1st and follow steps, even if that's not your style. It's simple, but some of the ingredients need to be split.
Make crust. Put 2 boxes of shortbread cookies in food processor, pulse until they are the texture of sand. Melt butter, add in along with vanilla and sugar. Pulse until it is cohesive. Press down into buttered springform pan. Chill 2-3 hours or overnight.
Mousse!
Melt 10 oz of chocolate, allow to cool. Easy to do in the microwave for 90 seconds in a heavy glass bowl, stirring halfway. Allow to cool. Make sure it is *thoroughly* melted or chocolate will seize.
Whip 2 cups COLD heavy cream until soft peaks form, about 2 minutes. Add in sugar. Keep whipping until you have still peaks.
Add ½ cup heavy cream into the cooled chocolate mixture and mix thoroughly.
Gently fold the chocolate into the whipped cream with a spatula. You don't want to deflate the whipped cream! It's best if it's not perfectly incorporated, that leaves yummy chocolate clumps.
Put the whipped cream mixture in the springform. Again, it's okay if there's a swirl going on. Smooth the top with the spatula.
Chill at least 6 hours or overnight.
Whipped cream time! Whip 1 cup of COLD heavy cream, 1 TBSP powdered sugar, 1 tsp vanilla until you have stiff peaks. Pipe however you want to.
Decorate with chocolate shavings, strawberries, whatever makes you happy!
Note: there are many ways to stabilize whipped cream. I didn't use any, but may try one next time. A bunch are here. If you experiment, let me know your thoughts.
I did ½ this recipe and make it in a 6-inch springform. Worked beautifully.
BTW, cake is definitely not dairy or grain free, but y'all have probably figured that out. 😉