This weekend will be the end of my 3rd semester of teaching Mindful Eating and Nourishment to nutrition grad students and coaching students at Maryland University of Integrative Health. It's definitely been a whirlwind, and I'm so glad I jumped in. While I've done a lot of community and online classes, grad school is a really different rhythm, and blending the science with meditation practice has been both challenging and exhilarating. In many ways, it has really pushed me to grow—especially since it's such a distance away, and I generally avoid driving whenever possible.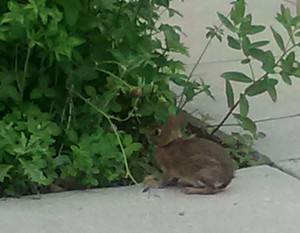 I knew I'd enjoy teaching. I didn't realize how much! Teaching helps me learn the material in a much different way than when I'm working one-on-one or teaching online, and the students are amazing as well. Of course, when there are 40 final projects on my desk next week, I'll remember why I don't teach more classes, but I'm so glad to have this opportunity.
The little bunny above was out rabitting during my class and hanging out by the door until he got everyone's attention. Clearly he wanted attention, so I got a picture of him after class. He was so tiny!