A quick shout out to a new Buy One Give One Campaign, started by G-Free Crusader Dee Valdez (AKA Gluten Free Dee). In a nutshell, if you buy g-free products from certain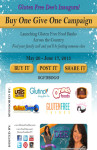 manufacturers and tweet about them through June 17th, the companies will donate products to a g-free foodbank. Good deal!
Here's how it works: (from Dee)
Purchase a product from a participating sponsor
Take a picture or make a quick video of why you LOVE the product and what it means to be able to feed a hungry gluten free kiddo (be sure to thank the generous sponsor for participating as well!).
Post the pic or video on the sponsors Facebook Page with #GFDBOGO on all postings
Post the pic or video on Dee's Facebook Page with #GFDBOGO
Spread the word (Tweet it! Pin It! Link It! Gram It! + It!)
There are a lot of participating brands–Udis, Glutino, Qrunch, Sandwich petals & more.
I've worked in many a foodbank over the years, and would absolutely love to see a foodbank with a g-free pantry in the DC area. Celiac doesn't discriminate—there are many people at need who need to be gluten-free, too. And there's also nothing like enlightened self-interest. We may not think of ourselves as someone who would use a foodbank, but if a natural disaster strikes, that can change suddenly, as many people learned after Sandy.
So pretty pretty please, consider supporting the Buy One Give One Campaign and encourage others to as well.