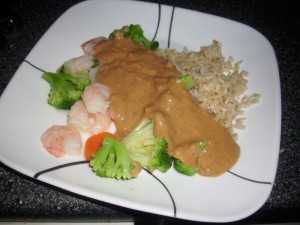 I will be the first to admit that I'm behind on blogging and book reviews.  Part of it is that I try to always make a few recipes from a book, well, that slows me down!
I knew I liked the "dairy-free &gluten-free kitchen" by Denise Jardine from just picking it up.  You know when you have that experience?  You can almost tell how good it's going to be just from the cover.  Anything that's gluten-free and dairy free and focuses on real food is bound to be a winner.
And it was! I made the Butternut Squash and Pear Soup and the Spicy Peanut Sauce.
E loves peanut sauce.  I loved eating peanut sauce, now I love it because I can make a lazy day, freezer"meh" meal (thawed stir fry veggies, rice and shrimp) into something that will make DH feel special and loved.  (Love how food can do that!)  It was very simple to make,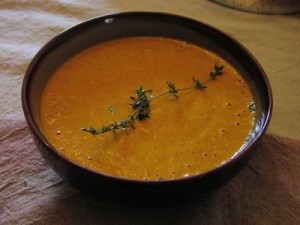 and we added in extra chili flakes for an extra kick.
The butternut squash soup was fabulous.  I've paired butternut with apple before, but never pear.  Simple, elegant, delicious.  Where can you go wrong with great, fresh ingredients?
I was also really intrigued by the Creamy Broccoli Soup and the Richly Spiced Dal, and those are absolutely the next 2 on my list.  If it had been colder lately I probably would have already made it (not that I'm complaining!)
The only thing I didn't like is that many desserts contained orange date syrup, which is one of the recipes, and so that needed to be made before you could try out the others.
Overall, I'd say that  is a winner and belongs on my shelf.  I would certainly recommend checking it out!