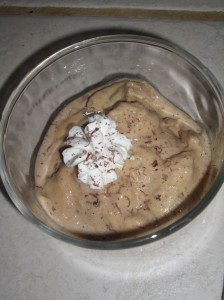 Life has been busy—issues with construction, permits, fire hazards and the like.  And our oven broke.  So lately it's been all about the quick and easy.
And what's quicker and easier than Banana 'Scream?  It takes about 2 minutes from start to finish, simple, and totally customizable to pretty much any diet (except a banana allergy).  We tend to have browning bananas go to freezer heaven, and the lucky ones are found and made into dessert before they become a mass of ice crystals.
1 banana, frozen, chopped into 5-6 chunks
1 TBSP liquor (chocolate liquor, Frangelico, whatever)
OR 1 TBSP "milk", juice or water
1 pinch vanilla beans, cacao nibs, cinnamon, chocolate shavings or whatever other topping suits your fancy.
Blend with fluid of choice until smooth in the food processor. Add topping if desired and enjoy!
See?  Couldn't be simpler.  I get my husband to eat fruit and he counts it as dessert.  That works for me!
I'm submitting this to Ricki's Wellness Weekends.