I just saw Iris' Dec Sanity Goal, and it's terrific!  Go check out her plan.  Simple yet elegant.  Heather of Celiac Family posted hers, too.  Anyone whose goal is to get more hugs is a winner in my book.
And I wanted to check in on my goals…ya know, the whole accountability thing–and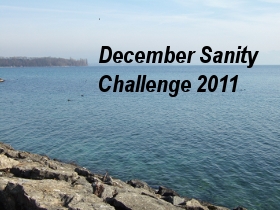 see how things were rolling along.
Exercising 3-4 times a week.  Ideally, Mondays, Weds, Thurs and Saturdays, and doing my fun PT exercises daily.

*yay!*  Did M, Th, Sat…forgot all about planning to do Weds.  Hmmm.  I still feel like I did a good job, and 3 is pretty decent.



Waiting at least 2 hours before making Internet purchases.  Hopefully by then I've figured out that I don't need whatever wonderous toy they're selling

Even better–didn't buy anything!

Meditation twice daily.

Om…..



6 desserts in December.  That's it. Yeah, about that.  I've made less than 6, but I'm up to 3 with 3 weeks to go.  This does not bode well!

Writing a schedule Tues.

I didn't specify which Tues….I will write it by SOME Tues, does that count? And I have kept up with work, so I should get points back for that!

Heading off on a silent retreat this weekend!  Way to get off to a good start.

Even saw an Owl.   The more I google, the less certain I am of the kind–it looked a little like a barn owl and a little like a barred owl.  The one I saw seems bigger than any of the pics I'm seeing on line.  Maybe I should split the difference and cal it a barned owl?  Either way, it's the first one I've  not on a leash in the zoo.  Very cool!
And everyone else?
For more about the Dec Sanity Challenge and how to join, see the initial post.