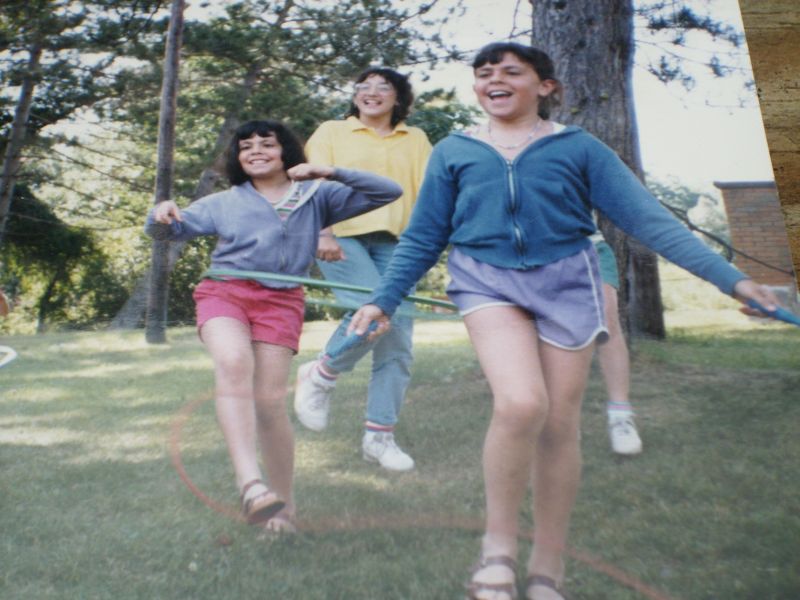 Don't you love this picture?  For me, it sums up the difference between self-care through movement and "exercise"!  I am the cutie pie in the pink shorts, my sister is the adorable girl in front and my lovely cousin Tolly is smiling behind us.
Valerie of City Life Eats kicked off our self care retreat with her post on self-care through movement, and her evolution into someone who could enjoy taking care of her body through exercise.
Of all the kinds of self-care, movement is hardest for me.  I've given it tons of thought.  I started out loving sports and movement as a kid (notice, I didn't say exercise, I said sports!) Soccer, cross country, track…the more activity, the merrier.  Most of it wasn't about self-care, though.  It was about essentially beating my body into submission to compete. At first it was fun and was totally liberating.  Then I got so attached to winning and needing to prove myself that it became stressful.
I do, however, remember the joy of riding my bike as a little kid, and the pride and freedom I found in that.  I also remember the fun of running before I started competing. I lost my way with exercise, and actually began playing rugby because NO ONE knew what they were doing.  No one would fuss at me over my weight.  There was movement, but there wasn't the hassle and the pressure.  And then, of course, with the various injuries to my ankles, movement has been very limited for the past 8 ish years, and that has hugely altered my relationship with movement and my body.
So my intention is to find a way to re-define self-care through movement.  It's challenging for me for some ways that are silly–my brain often jumps to feeling like a hypocrite for not getting in "the daily/weekly recommended amount exercise" although I'm fully aware that's simply not a physical possibility for me.  In some ways, self-care is forgiving my body for injury and imperfection. And, of course, it's about finding new ways to define activity.
Over the past month or so, I've been adding in more breaks in my schedule so I can stretch or move every hour or two.  I've also been adding in more mini walks (and I mean, REALLY mini).  And I think there needs to be something else, but I'm not quite sure how that will take shape yet.
I'm looking forward to keeping self-care through movement in mind this month, and seeing what makes sense for me at each given moment.  And I hope you choose to join us!
This virtual self-care retreat is to inspire you all to make July a month of reflecting on self-care and the many ways to nourish ourselves. We encourage everyone to participate in this event in a way that feels appropriate to them, whether through personal reflection, journal or other self-care.  If you would like to share your experience with self-care, we would love to include you in the experience, whether you join us for one week or every week.  You can write generally about self-care, or focus on one of the themes (movement, food, family/friends/pets, creativity and meditation and mindfulness), or write every week about each of the themes.  We ask that you link back to this post so that more people can learn about this retreat, and leave a comment for the weekly theme host, too!.  If you would like to be included in our  roundup, please email a link to your post, along with your name and blog name, to us at selfcareretreat at gmail dot com by July 30, 2011.  Feel free to use the badge in your posts.  Non-bloggers who would like to contribute,please email the full text to the same address and it will be included in the roundup.