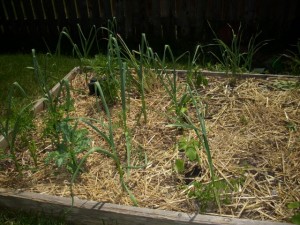 I hope everyone had gorgeous weather like we did! My plants are loving it, too. It's hard to see clearly in the picture, but we've got garlic scapes, kale, carrots and a whole lot of plants that have a long way to go.
This week's theme is picnic foods from Heather of Celiac Family. Hmmm….many of my favorite picnic recipes are here from a fun cookout we had last year.
I'm away most of this week (yahoo!), my food selections will be based on portability and things that last well without going bad. And then I'll be back to a more normal schedule and maybe even birthday brownies when I get back home. I'm looking forward to a glorious time of relaxing in the mountains, even if it is only a few days.
On the line up:
Kalamata Hummus with red peppers
Quinoa with kale "pesto"
Avocado and cassava crackers
Tuna in lettuce cups
and whatever else I can find along the way: nuts, seeds, fruit, etc.