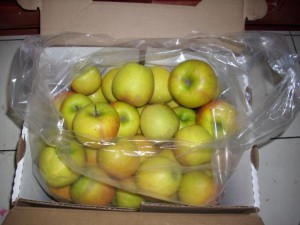 Mid winter is a challenging time for me as a gardener and someone who loves to be outside. Even my kale left the land of the living, and usually it overwinters nicely. Since I do try to eat locally grow and seasonal foods, winter throws a bit of a monkey wrench into things. So the question is, how do you all do it?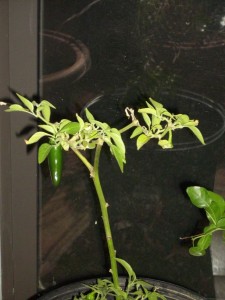 This Saturday, I took a trip to the Farmer's market and got a box of goldrush apples…my favorite, and even better that they store so well. I have frozen garlic, raspberries and oven roasted tomatoes from my summer garden harvest, and there's even one Serrano pepper on our plant in our sunroom. My rosemary plant is alive and well, and of course there are a few jams around, too. I'd love to have more!
For the menu, I'm glad to be back to planning because I know it helps! And I do need new hosts (hint, hint) although Heather is on for next week with chocolate. yum.

Monday:
Chicken with rosemary and olives and roasted cauliflower with rosemary and garlic
Tuesday:
crockpot BBQ chicken with carrots and onions
Weds:
turkey cutlets and caramelized cabbage
Thurs:
lentil dal and papads
Friday:
leftovers
Saturday:
hummus and peppers…one of my very favorites

Baked goods:
the Jan DB treat, which is one of my very favorite most foods ever…stay tuned!
cornbread (maybe)
pumpkin bread (maybe)
And what about everyone else?
Kim at Gluten Free is Life is totally on the ball and helped me get this post up on time. First, check out her new digs! http://www.glutenfreeislife.com/ She's got sweet potato fries on the menu, which always catches my attention, and squash is her seasonal food of choice.
Angela at Angela's Kitchen has the cutest little herbs growing, which is such a great reminder that I should be doing that, too! I love her white bean and greens soup, it sound delicious.
Heather of Celiac Family has been trying recipes around the web, like cinnamon rolls and some of the GF gobsmacked recipes, too. I may have to make the ribs for DH for V day…
Yadi of Gluten free diaries joins us for the first time so please give her a warm welcome! she's got a recipe for rosemary orange chicken and many new ones coming soon so check out her blog