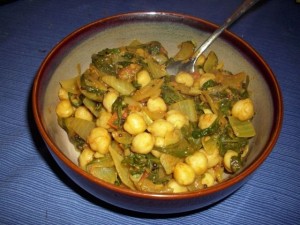 The picture of the Chickpea and Spinach curry really doesn't do the yumminess any justice.  Like most curries, the beauty lies within…
This super yummy, vegan curry is part of Adopt a GF Blogger, the brainchild of Sea, of Book of Yum.     I've wanted to adopt Sea for ages, because I love her healthy, inventive, flavorful GF recipes that usually have an exotic flare.  The most fun part of all of this was going through her (extensive!) recipe index!  The hard part was finding just one to make…but now I've marked a couple more for future weeks.  Another great part of her recipe index is that she rates recipes, so that you can figure out which things absolutely HAVE to get made.
The recipe was wonderful, flavorful, and satisfying.  It was so perfect because I *had* to get GF aseofetida powder, and went through this process of hunting it down, then and then I only used it once (ya know, when you want it pretty much because you can't have it).  So this gave me an opportunity to give it some more use! Another bonus was that I had a bag of frozen tomatoes from my plants last summer, and I'm trying to make my way through all of the frozen foods I've stored to make room for the vegetative goodness just around the corner!  Of course, using my own tomatoes made it taste better because anything you plant is just uniquely splendid…just 'cause.
I made the recipe as directed.  The only change I made was using arugula instead of spinach since the cute little market near me was out of spinach.  It was funny, really, how annoyed I was at first, and a good reminder of how much I take having beautiful, organic, fresh foods for granted!
So thanks again, Sea, for all the recipes!